Mussels -- A Bond Between Childhood and Adulthood for Me
Mussels -- who would have dreamed they would be a connection between my childhood home in western Minnesota and the city I now live by in southeastern Iowa.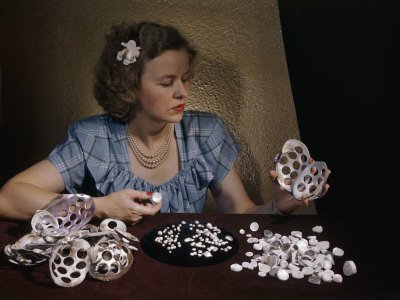 Woman Holds Mussel Shells and Pearl Buttons Made from Those Shells "All Posters Photo Credit"
On a recent visit with my mother, Adora Ose, who lives near the Minnesota River by Echo, Minnesota, I enjoyed lunch at the Rock Valle Church before their annual mission day auction....quite an event, by the way...these ladies bring in over $8,000 for missions from handmade quilts, etc.
While visiting with Randy Iverson, a grandson of my mother's neighbor, I learned an amazing connection between where I live now in Muscatine, Iowa and the clamming days on the Minnesota River, which is nine hours away from Muscatine. Randy said that he had just read in the Yellow Medicine County History book that folks would take shells from the Minnesota River and send them to the button factories in Muscatine, Iowa.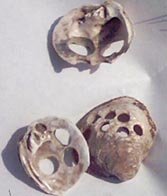 Shells with Buttons Cut Out photo by Kari

Who would have ever thought that after I've moved nine hours away even to another state, that there would be this interesting relationship between the two places. It is a small world after all!
Here is the account of gathering mussels from the Yellow Medicine County Minnesota History book. And, oh yes, they found pearls too! Another neighbor of my mother's has a ring of two Minnesota River pearls, a purple one and a white one. Unfortunately, I forgot to stop by and get a photo...maybe on my next trip home.
Clam Digging in Yellow Medicine County Minnesota
Digging for mussels in the Minnesota River has been a hobby and an industry. In 1895 G. C. Johnson was reported as "spending all his spare time digging clams and has acquired a number of valuable pearls."
Clamming was a business in 1916, when a crew of clammers from Muscatine or Comanche, Iowa arrived in Granite Falls with their paraphernalia. They brought the clams into the boats with rakes, removed the mat and piled the shells for shipment to a button factory. Occasional pearls were found, but of poor quality. In a short time they had ten tons of shells. One report, probably exaggerated, told of the finding of a pearl sold to a buyer for $300, "but the 20-grain stone will be worth $700 to $1,000 when polished."
The clammers worked up the river from Granite Falls near the Mooney farm, as well as downstream. They complained that at least 25 Indian boats downstream were manned by Indians who were inexperienced, ruining the beds and netting few mussels.
Many carloads of clam shells worth $30,000 were shipped from Granite Falls in 1916, taken from the river between Montevideo and Mankato. "The number of pearls found is not and never will be known but in many outfits the value of pearls netted more than the shells of mussels," was one report. The average clammer netted $18 per day. The best time to clam was said to be June, for then the clams would grab at anything, it was no good after mid-August.
Clam shell diggers were back in 1917. The shells were worth $40 per ton, but the harvest was poor, as beds had been over worked in 1916, but the clammers said "a year or so of rest and the shells would be as numerous as ever."
One shell digger, Henry Van Dalen, 27, drowned below Wegdahl when his boat overturned. Ole Twedt closed his Granite Falls wood yard that summer to dig mussels. Lawrence Rekkerdahl found a pearl he reputedly sold for $500 to a man from Lyon, Iowa.


Pearl Buttons from Muscatine, Iowa photo by Kari

In 1021, Stephen Lien, Erick Erickson and the Twedt boys shipped 14 tons of shells from Granite Falls and 16 tons from Wegdahl to the Muscatine Button Factory. That year the price had dropped from $40 to $21 a ton. At this time the game and fish department issued an order banning clamming for a period of five years in the Minnesota River between the Lac qui Parle and Yellow Medicine Rivers.
Back again in 1931, Ole Twedt was an experienced clammer trying to beat the depression. Each afternoon he gathered six or seven bushels between the rapids and the dam. He found this an ideal place for pearl clams because of the amount of refuse in the river. A pearl is formed when a piece of foreign matter is taken into the shell and irritates the flesh, causing a hard protective coating to form around the foreign object. Twedt was reported to have found seven excellent pearls, five the size of shoe buttons, three cream colored, the others bluish white.
In 1933 Smith Brothers of Granite Falls engaged twenty to thirty men, mostly Indians, to dig for clams. The mussels were boiled, the meat removed and sold for hog feed, and the 80 tons of shells they salvaged were shipped to the button factories. In 1935, the operations yielded about 70 tons of shells.
Clamming in the Minnesota River is presently not legal.
Read more about pearl buttons made in Muscatine with mussels from the Minnesota River.
Homepage for KariPearls