Pearl Button History
Learn about pearl button history...who is credited with getting it starting in Muscatine, Iowa...once the Pearl Button Capital of the World?


See local photographs and read details here.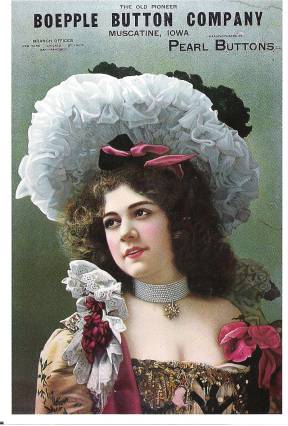 Beopple Pearl Button Company Ad
Birth of the Pearl Button Industry
John Fredrick Beopple, an immigrant from Otlensen, Germany and farm laborer in Columbus Junction in the late 19th century is credited with beginning the pearl button industry in Muscatine, Iowa.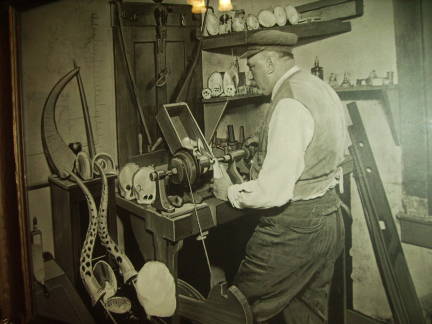 Beopple Cutting Buttons
While in Germany,
Beopple made buttons from animal horns
, but also experimented using fresh-water mussel shells. Read more about
Muscatine pearl buttons here.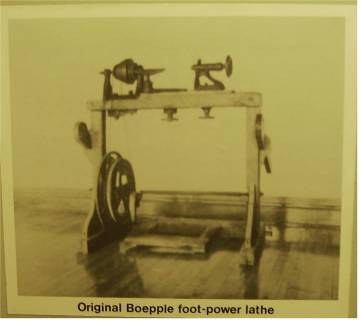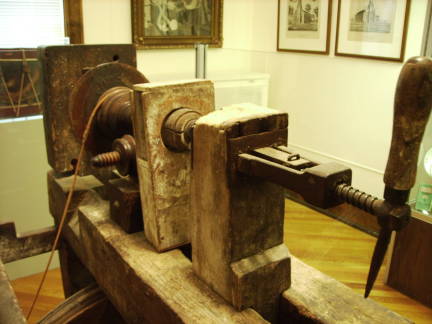 Handmade Button Cutting Machine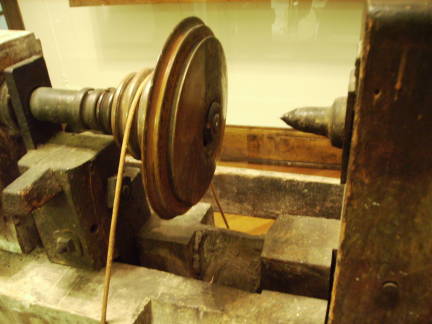 Close up of Handmade Button Cutter
William Molis
, superintendent of the water works,
loaned Beopple $15
to move his hand made button cutting machine to Muscatine.
Muscatine is located at a bend in the Mississippi River where great amounts of clams grew.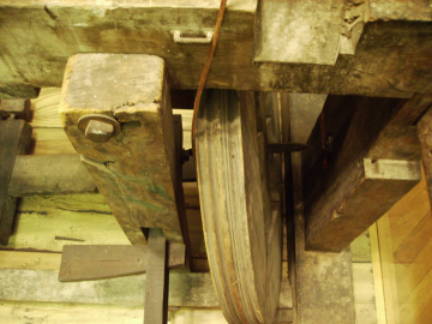 Details of Button Cutter
On
January 26, 1891
, Beopple partnered with Molis and formed
Beopple Pearl Button Company
. See ad at top of page.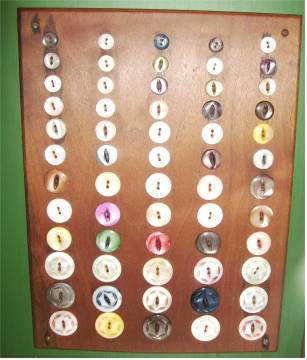 Button Display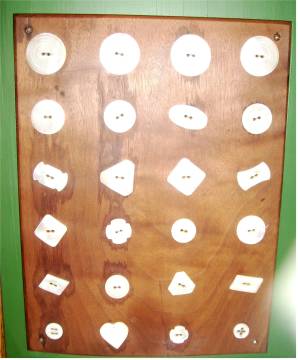 Buttons Cut into Different Shapes
See Button Jewelry Here
Barry Automation Introduced
In 1898 Nicholas, Patrick and Thomas Barry boosted the industry into a modern commercial enterprise by developing automatic saws and drills.
Barry automation caused the pearl button industry in Muscatine to increase so at its peak from 1913-1919 one third of the entire population of Muscatine was employed in some aspect of making pearl buttons.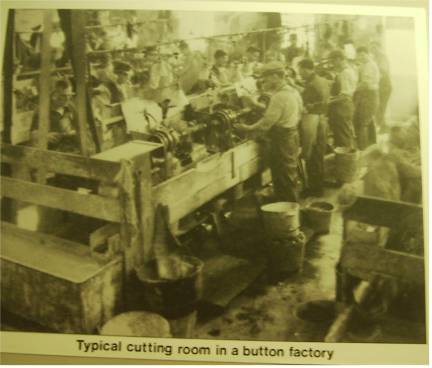 More on Beopple Pearl Button History
Beopple later served as a shell expert at the Biological Station at Fairport, Iowa, a few miles from Muscatine, in studying mussel shells of the Mississippi River.
During the preparation of the Dingley Tariff Bill, Beopple was called as a pearl button authority to Washington DC.
Beopple died January 30, 1972
Thank You Muscatine Art Center
Thank you to Muscatine Art Center for letting me use photos of their pearl button history exhibit.
Muscatine is very fortunate to have this gracious 1908 Historic House Museum and Art Center located on 1314 Mulberry Street. It's like stepping back in time to the turn of the century with all the frills and luxuries. Free and open to the public.
On permanent display is a brass bed used in the White House by Susan Ford, period furniture and art by famous artists.

Click here for more pearl button history--Clamming on the Mississippi River