Pearl Button Factory


Learn how a pearl button factory got started in Muscatine, Iowa and how improvements were made to the industry.

Ever wonder what it was like inside a real pearl button factory?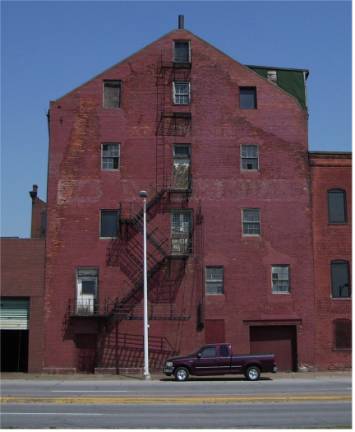 I thought there was no way to see one of these historic treasures…but I was wrong…

Pearl Button Factory
Last week Ron Schmarje gave my children and me a tour of his family's vintage button factory, formerly, Ronda Pearl Button Company—see 1948 Muscatine Journal article.
Yes…an authentic old factory, left for curious people like us to see and appreciate….
The Schmarje family had the forsight to leave this factory untouched for 50 years.
What a treasure!… right here in our "own back yard," at Muscatine, Iowa.
The Ronda Button company factory was abandoned in 1956…workers left their gloves on the button cutting machines and never came back…those gloves are still on there.
So, come with me, 50 years back in time and take the factory tour.



But first, a little history…

Ron's grandfather, Claus, (see photo of Claus here) emigrated from Germany in the early 1900's and soon became involved in the pearl button industry which thrived here. He was an owner of Muscatine Pearl Works.
Claus realized the inefficiency of the steel cutters used for cutting the button blanks from shells...the cutters would wear out in a few minutes.
He enlisted his son Clarence's help.

Clarence was one of the first students to obtain a Ph.D. degree in Engineering from the University of Iowa. During this time in the 1930's he lived in Pittsburgh, working at US Steel Co. and teaching at Carnegie Technical Institute.
Read more about Clarence here.
From a student who worked for a company making cutting tools Clarence learned about a new material called tungsten carbide.
Intrigued, he began investigating tungsten carbide.
It was the perfect solution to his father's short life cutter problems.
By making the cutter's teeth out of tungsten carbide soldered to the steel cutters they were strong and lasted through many cuttings.
Clarence, convinced by his father to return to Muscatine, in the 40's began manufacturing tungsten carbide cutters in his basement.
Soon he moved to a former grain mill for Mother's Oats and Quaker Oats, (one of the oldest mills west of the Mississippi--see above photo), where Schmarje Tool is located today (see photo below), hired a crew, bought machinery and began making carbide cutters in quantity.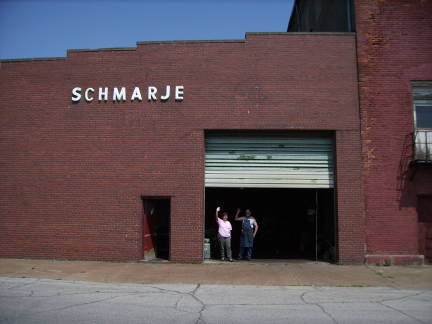 Kathy and Roger wave to us from present day Schmarje business...Hello Kathy and Jake!


Quickly the product line of Schmarje Tool (click here for more complete history) expanded after buying state of the art equipment such as newly developed grinders from England and Ohio.
Contracts were secured to make tools for World War II and also companies like Schaeffer Pen Co. and the Bendix Co.
Mr.& Mrs. Clarence Schmarje also started the Ronda Button Company at this time, which acted as a proving ground for the new tools produced there and was also housed in the same building.
The name Ronda is a combination of their two sons' names: Ronald and David.


Ron Schmarje by vintage pearl button machine
Continue the Ronda Pearl Button Factory Tour
Now…I know you'll enjoy seeing some photos from inside the factory.
Pearl button factory tour...inside photos…click here to continue.
View shells and button blanks.
Read a 1948 article about Ronda Pearl Button Factory.
Learn more about Schmarje Tool Company.
NOTE: This old pearl button factory is a "PEARL" in our midst.