Schmarje Tool Company
Learn about Schmarje Tool, a company that designed and developed carbide cutters...especially as those cutters related to the pearl button industry.
The 30's
Clarence Schmarje, founder of Schmarje Tool Co., was one of the first students to obtain a Ph.D. degree in Engineering from the University of Iowa. He then moved to Pennsylvania where he began working at US Steel Co. At the same time he taught at Carnegie Technical Institute in Pittsburgh. One of his students found out about a new material called Tungsten Carbid. This student worked for a company that was making cutting tools from the newly developed tungsten carbide. Clarence became intrigued and started to do some research. This was in the late 1930's.
Clarence's father, Claus, was an owner of a button factory in Muscatine, Iowa called Muscatine Pearl Works. The tools they were using to cut buttons at that time would only last a few minutes so they were interested in finding a tool with a longer life.
So in addition to full time work at US Steel Co. and teaching at Carnegie Tech, Clarence started to design and develop these new cutting tools.
The 40's
Clarence's father convinced him to
return to Muscatine
and manufacture these tools on a wider basis. In 1942 Clarence began to manufacture these cutting tools from the
basement of his home
. Shortly afterwards he moved the operation into the building
where Schmarje Tool is located today
. He bought some machinery, hired a crew and
began manufacturing
carbide cutting tools.
Clarence began buying state of the art equipment and expanding the operation. He started with the purchase of newly developed grinders from England and Ohio. With continual focus on specializing in carbide cutting tools and form tools the product line was expanded. The company obtained contracts to manufacture tools for the war effort. The company also landed some contracts with other companies. A couple of the first customers were Schaeffer Pen Co. and the Bendix Co.
The 50's and 60's
The company continued through the 50's and into the 60's to
manufacture carbide cutting tools
and form tools. Clarence had been doing some research and in the mid 60's decided to expand into a new field, the world of
computerized machining
. By the late 1960's Schmarje was the
largest CNC machine shop in the area
, doing machine work for companies like
John Deere, J.I. Case and Caterpillar Tractor Company.
Schmarje Tool company worked 24 hours a day, not only machining parts for all the
largest corporations
, but manufacturing tooling and machining fixtures to meet the needs of the Midwest.
The 70's thru the 80's
Spurred by the seemingly
limitless business possibilities
as a specialist in carbide tools, a new shop was eventually set up in Muscatine, Iowa. The company began gradually acquiring the most
modern and efficient machine tools available
- equipment that few if any other comparable companies had at this time. With these machines, plus supporting equipment such as modern milling machines and surface and cylindrical grinders, the company became the
only fully equipped carbide form tool specialist in the state of Iowa
, and one of the
best equipped shops
of its type in the country.
The 90's
Schmarje Tool Company, now majority
owned by Clarence's son, Ron Schmarje
, continues efforts to produce better tools and hold tighter tolerances while continuing to
improve efficiency
. Schmarje Tool Co. added
state of the art machines to its manufacturing
, such as the addition of 4 CNC grinders, the last being a 7 axis grinder.
Tool Fabrication Corporation
On April 27, 2001, Schmarje Tool Company was acquired by
Tool Fabrication Corporation
, a Milwaukee-based company that has specialized in
custom-engineered cutting tools since 1970
. Tool Fab brings an
enhanced level
of manufacturing technology, a
developed distribution
network, and a well-respected reputation for
excellent customer service
to Schmarje's Thread Mill line.
Under the ownership and business philosophy of Tool Fab, Schmarje Tool Co. insists on meeting the customers needs for the best possible tool for the job. Tool Fab/Schmarje is proud to be part of the machining industry, building on our history, working with our distributors to serve the tooling needs of manufacturers, developing new products and reaching for the future. If it all were to be summarized into one word, that word would have to be INTEGRITY.
Schmarje Tool Company
by:
Tool Fabrication Corporation
1-800-790-TOOL(8665)
2940 North 117th Street
P.O.Box 26248
Milwaukee, WI 53226
Telephone: (414) 453-5030
Fax: (414)453-5650
sales@toolfab.com

Copyright © 2005 Tool Fabrication Corporation | All Rights Reserved.


(Used with Permission from Tool Fabrication Corporation)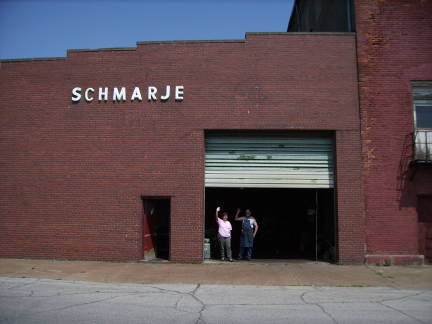 Schmarje Tool today...Hello Kathy and Jake!
I think you'll enjoy these pages also related to Schmarje Tool history.
Read 1948 newspaper article about Ronda Button Company and Schmarje Tool.
Ronda Pearl Button Factory introduction page.
Ronda Pearl Button Factory Tour
View shells and button blanks from Ronda Button Company.
Search here.