Scottish Pearls
We don't think of Scottish Pearls when we think of pearls...at least I don't.
But they may have been the reason for the Roman invasions of long ago.
British citizens and tourists take for granted that they travel over Roman bridges that are still highly useful today....
but why did the Romans go to Britain?
Was it the famous natural Scottish pearls they sought for?
According to Iain Sime, Freshwater advisory officer,
"Roman historian Suetonius refers to Julius Caesar's preference for British pearls as one of his main reasons for invading the country "
One of the most famous Scottish Pearls, the Kellie Pearl, found in Aberdeenshire was used in the Scottish crown jewels.
"The oldest reference in Scotland tells how Alexander I, King of Scotland, was said to have the best collection of freshwater pearls of any man living at the time," said Mr Sime.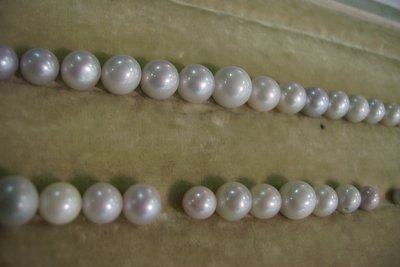 Scottish Natural Pearls
So...what is happening today with Scottish pearling? Is it thriving or being threatened by illegal activities?
Scotland is home to a rare pearl bearing mussel. In fact, half of the world's population of this rare mussel lives in Scotland, however, they seem to be dying out.
In 1998, this species was given full environmental protection by the Scottish National Heritage (SNH), but illegal gathering and pollution may be threatening their very existence.
In spite of this protection...unlawful taking of mussels is a problem. Warnings have been issued to pearl hunters and fines of up to £5,000 can occur for each mussel damaged.
More and more private people have been on the lookout for criminal mussel activity, which includes ripping out 80-year-old mussels and discarding their non-edible meat in search for pearls, since the crack down which has the code name of "Operation Necklace 2000."
From 70%-99% of the areas, such as the rivers in the Highlands and on Tayside, where there are mussel colonies, are now extinct or about to die out. Scotland is the main European area for this rare species.
Another famous pearl is the Abernethy Pearl, found by William Abernethy, a pearl diver, when it was legal in 1967, in the River Tay. The pearl is also endearingly referred to as, "Little Willie."
Water sources abound in Scotland, such as in Fife, which is surrounded on three sides by water. The enchanting Kingdom of Fife is only a few miles from Perth, the present home of the Abernathy Pearl.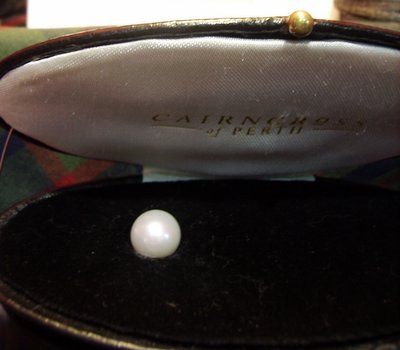 Abernathy Pearl
Go to main page of countries where pearls are found after reading about Scottish Pearls.

Watch videos and learn about the Scottish River Tay.
Search here.