Antique Natural Pearl Necklace...right here in Iowa...who would ever guess?
Ancient antique natural pearl necklace and bracelet turn up in the most unusual places...like on this afternoon trip to the Toolesboro Indian mounds near Wapallo, Iowa.
Enjoy these rare antique natural pearl necklace photographs.
Antique Natural Pearls
I've lived in southeastern Iowa for about 30 years now, and always intended to visit the nearby Indian mound museum. Well, a few weeks ago, my husband and I finally got there. And what did I find?
Indian Artifacts Toolsboro Mounds
These ancient Native American burial mounds had been excavated in the 19th century with the artifacts now taken to a larger local museum. The present museum near the mounds is mostly a "yes, these are Indian mounds" arrangement, with little on display except some dioramas and facts.

Indian Artifacts Toolsboro Mounds
What amazed me however were some unofficial photographs in a large frame. They were amateur photographs of the original artifacts. The original artifacts taken from these mounds are now kept "under wraps" to show honor to the deceased Indians...after all, would we want our ancestors' grave things on permanent display?
Indian Artifacts Toolsboro Mounds
These artifacts were on display for ONE DAY some time ago.
Indian Artifacts Toolsboro Mounds
These photographs are rare treasures.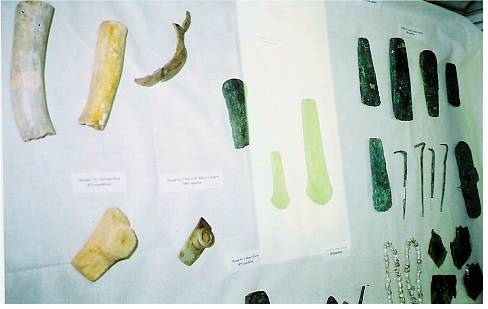 Indian Artifacts Toolsboro Mounds
Ancient Antique Natural Pearl Necklace and Bracelet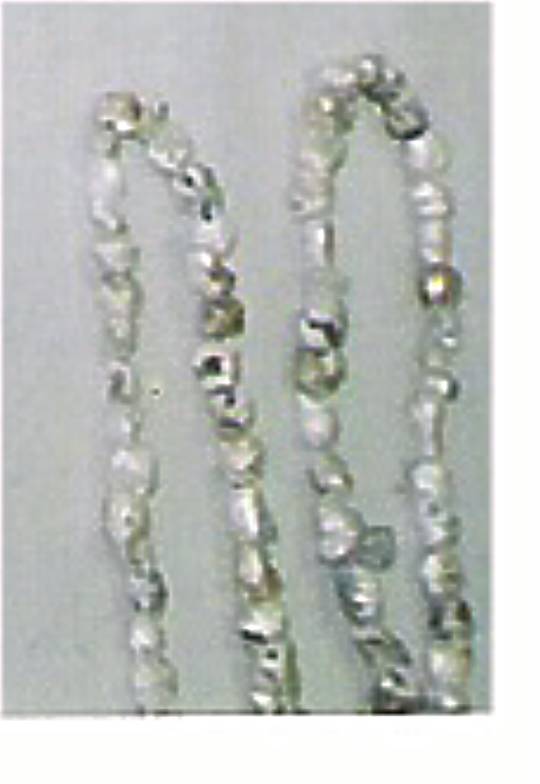 Antique Natural Pearls Indian Mounds

My eyes grew wider and wider as I saw in the photos two amazing pieces of ancient jewelry. One was an antique natural pearl necklace and the other an antique natural pearl bracelet. Antique? Yes, but really more ancient than antique.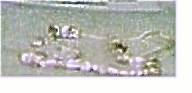 Antique Natural Pearls Bracelet Indian Mounds
These pearls date back 2,000 years (100 B.C. to A.D. 200) to the Middle Woodland period and "Hopewell Tradition", which refers to a set of burial practices shared among certain Native American group. Archaeologists began calling this the "Hopewell tradition" after an excavation of an earthwork on the Ohio farm of Mordecai Hopewell.
I'd heard of an antique natural pearl necklace found from this period in the Ohio Mounds, but never in the Iowa Mounds.
Toolsboro Indian Mound Site consists of seven burial mounds on a bluff overlooking the Iowa River near where it joins the Mississipppi River. Being so close to two rivers I naturally assumed this antique natural pearl necklace to be made of ancient freshwater river pearls. The information given, however, refers to them as Gulf of Mexico pearls. Extensive trading occurred among the American Indian tribes, so if experts name these as Gulf pearls, they probably are.
Antique Natural Pearls Bracelet Indian Mounds
The volunteer who took the photos and saw the antique natural pearl necklace and bracelet herself was "ohhhing and ahhhing" to us about the beauty of the pearls in the antique natural pearl necklace and bracelet.
Antique Natural Pearls Artifacts
She said, "They are nothing like pearls as we know them...round and white. The pearls in these antique natural pearl necklace and bracelet were the richest browns and beiges, with many shades and all different shapes and sizes."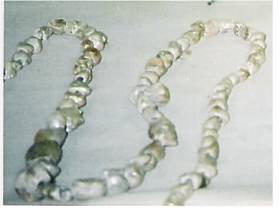 Antique Natural Pearls Necklace
I was curious to know if the pearls in this antique natural pearl necklace had kept their luster all that time buried in the earth as I've read about buried pearls losing their luster.
She affirmed, "Oh, yes...they were full of luster! They were just beautiful! The sinew they were strung on had rotted so they were restrung on new sinew."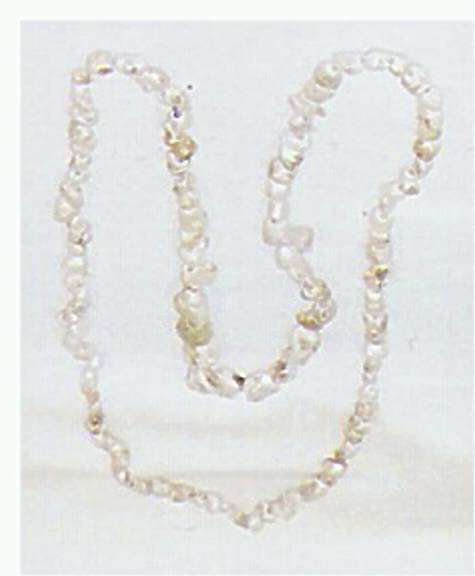 Antique Natural Pearls
This lady spoke with such reverence and awe that I really felt "jipped" not being able to see this antique natural pearl necklace and bracelet in person, but was also thrilled that she'd taken photographs.
Indian Artifacts Toolsboro Mounds
These photographs are what I could glean.
Indian Artifacts Toolsboro Mounds
Other items in these photos include: Great Lakes copper, Appalachian mica, Rocky Mountain obsidian, Marine shells, and Chesapeake Bay shark teeth.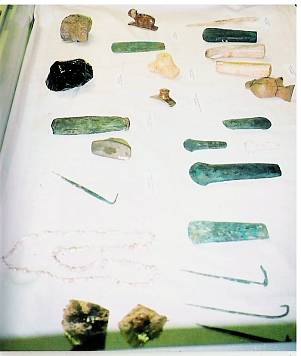 Indian Artifacts Natural Pearls Toolsboro Mounds
A volunteer also shared many stories of her own dealings with Indian affairs.
Some of the mounds these artifacts were taken from were the Daniel Hindman Mound, 1886 expedition; Mound #5, Mrs. E.H. Mallory's property, 1886 expedition; Mound D, Parson's farm, 1875 expedition; and Mound 4, Shaw's farm, 1875 expedition.
What a delightful afternoon!
Toolsboro Indian Mounds
A National Historic Landmark
I've copied the following information from a pamphlet about the Toolesboro Mounds.
The family of George H. Mosier donated the land containing the mounds to the Stare of Iowa in 1963. The state later purchased additional adjoining plots and made the site a State Preserve. The Toolesboro mounds were designate a National Historic Landmark in 1966, when the State Historical Society of Iowa began to manage and maintain the site. The Educational Center was built in 1969.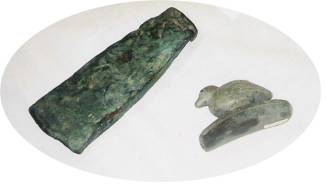 Indian Artifacts Bird Ax
No further excavations are planned for the Toolesboro mounds. Because the mounds are sacred burial sites to Native Americans, any further excavations of the mounds would be disrespectful. Also, the government has passed laws making it illegal to remove artifacts and human remains from native American burial mounds.
In addition, archaeology can be a destructive science. Artifacts removed from a site can never be replaced in the position and context in which they were originally deposited. Today's archaeologists prefer exploring ancient sites by non intrusive methods, such as aerial photography, surface surveys, and "remote sensing" of the ground, a procedure somewhat like an x-ray.
My Personal Interest in Native American History
I've personally been interested in Native American Indian History all my life. In high school, one of my favorite teachers was Mrs. Blue, the local Indian Chief's wife from a Sioux Indian reservation near my childhood home in Echo, Minnesota. The Sioux uprising was fought partial on my uncle's farm and girlfriend's farm. Nearby, on my parents farm they've found tomahawks and arrowheads....so intriguing and interesting to me.
Once, after dad plowed up some virgin pasture land and found a nice tomahawk, I spend hours combing the ground hoping to find an arrowhead or some reminder of the past. My dad finally took pity on me and gave me one of the family treasures...a tomahawk.
Me and Native Indian Tomahawk Artifact from my Childhood Farm
See historical monuments and a gorgeous mural of Sioux Indians from near my childhood home in Minnesota.
I love roaming my childhood home pasture, some of which I've now inherited, and dream about the days when Sioux tipis dotted the landscape....I'm a hopeless romantic.
Now, living on a farm in Iowa near the Mississippi River, I still dream about those long ago days when Native Americans roamed and lived there...and we know they were here as when we excavated for our new house my daughter, Anna, found 1/2 of a large arrowhead.
So, seeing these ancient antique natural pearl necklace and bracelet so nearby totally fascinated me.
A Human Hip Bone from Turkey
As a sidelight, some of you may be interested in my odd preoccupation with burial sites.
Even in Eastern Turkey in the foothills of Mt. Ararat, I enjoy seeing ancient graves. Once, in Eastern Turkey, when a local man was showing my son, Sam, and I an ancient grave which had been dug up and looted years ago near his home, I noticed a recognizable human hip bone laying on top of the dirt. I picked it up and asked what it was. He motioned with his arm and hand that it was a hip bone (which was obvious also to me). I asked if I could take it. In Turkish he said, "Sure...it's yours!"
It was of no value to anyone...just laying there on top. The treasure had been looted...bones were of little consequence.
I was thrilled and am now the proud owner of an ancient human hip bone from history rich eastern Turkey.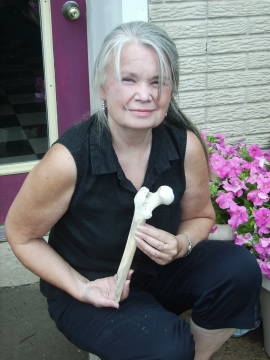 Me and Human Hip Bone
Read more about my international travel adventures here.
Enjoy this American Indian Beading Collection.
Learn about the history of Native American beading here.
Go to main Famous Pearls page after reading about this ancient antique natural pearl necklace.
Photos and Text © by www.karipearls.com