American Indian Beading Collection
Mike Denney shared his photos of his American Indian Beading Collection with me after seeing my photo with a Sioux Indian tomahawk.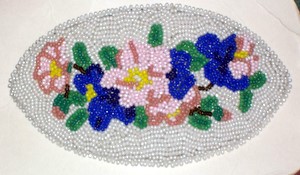 Flowers on White Beading
Mike says:
This American Indian Beading collection is bead work my family made, and I keep it as part of a collection of Sioux History. This is only one part of the collection. Most all these are made of cut glass beads.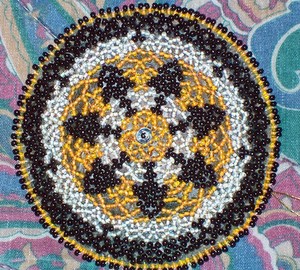 Black, White, Yellow Beading
I come from the family Campbell and his wife was a Mdewakanton Sioux and her name is (Wakanhiyayewin) on the 1886-1889 Census Minnesota. And Campbell was half Mdewakanton too and a Scout for the army and was in the army too...Wakanhiyayewin is Theresa Cora Campbell's mother. Wakanhiyayewin is listed here on the 1889 census number 14.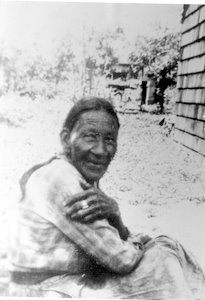 Theresa Cora Campbell Denney
This is my Great-Great Grandmother. Her name was Theresa Cora Campbell Denney. This was my dad's father's mother and my dad's father's name was Hank Denney and my father's name was Harry S. Denney and my name is Michael Denney.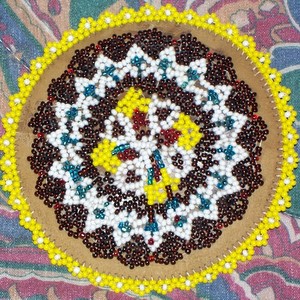 Black, Yellow, Blue, White Beading
We are Santee Sioux or Mdewakanton Indians. I was raised around Santee, Nebraska and Sioux City, Iowa. Our people were run out of Minnesota in the war of 1862.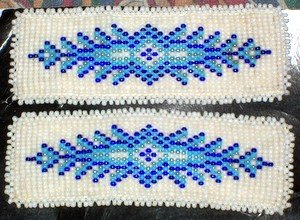 Blue and White Beads
We were told we could stay by the Goverment but they lied. There were bounties put on our hair...our scalps. Price for one $150.00 dollars to $300.00 dollars as history recalls.
Blue, Orange, Brown & White Beading
So a lot of our people ran for their lives and others were forced or transported by any means the government had...by boat, walking, or killed or starved them to death.
Blue Blue Beading
Well anyway, the Sioux were spread-out over a large area of what is now the Northern States and Canada.
Brown Orange Yellow Beading
The Mdewakanton or I should say the loyal Mdewakanton people were promised from the Government to have a place in Minnesota a reservation three areas ofland for the loyal Mdewakanton People to live in peace...but this did not happen.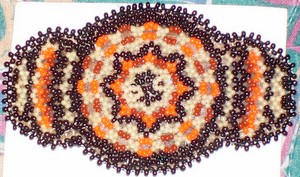 Brown, White & Orange Beading
The government let some other Indians into our land that was for the loyal Mdewakanton people. So this is the story and why I made this website for Indian research on the Mdewakanton, Dakota, Lakota, and Sioux Indians.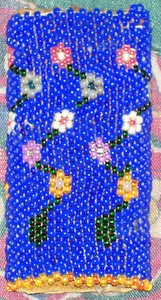 Flowers on Blue Beading
And as for the bead work my family made these and I was really proud of the work and the time it took to do this kind of work.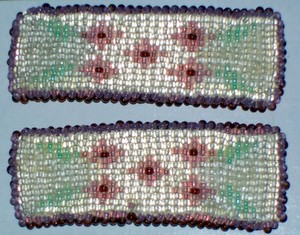 Green, Pink & White Beading
It is an art to do this great work so I told my family that I wanted all their bead work that they have done that wasn`t sold already to keep in an American Indian Beading collection...and they agreed.
Green White Black Beading
My family is some of the greatest Indian beaders I have seen and I have seen a lot. The Santee Indians are known for their great bead work.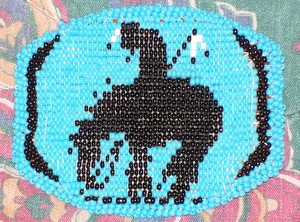 Indian on Horse
You need not sign-up for the research site. I allow guests to research or just look around. I go by mdenney at the site.

Lizard Beaded Necklace
This is my Rock it was found by me In Sioux City Iowa.It has quite the history. I found it in what I and other people called Indian Diggers.
Orange Red Beading Stick
This was a place by my home back then that was being dug-up by big machines and theconstruction outfit found bones there. Yes an Indian graveyard. The digging came to a stop.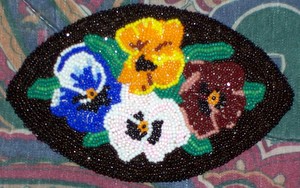 Pansy Beading
Thats when I found this rock. It has a ring inset in it and was strange so I kept it in my collection to be safe-guarded.
Pink and White Beading
I will say it is a art to do make te pieces in this American Indian Beading collection. These cut glass beads are very hard to work with. They are really small beads.
Purple & Black Beading
Denney family American Indian Beading Collection Dreamcatchers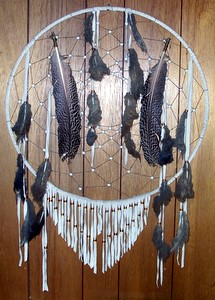 Dreamcatcher with Black Feathers

Wolf Dreamcatchers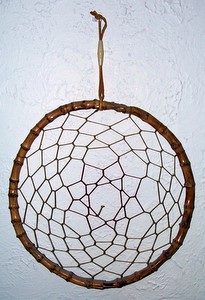 Dreamcatcher
Denny Family American Indian Beading Collection Arrowhead Collection
Denney Family Arrowhead Collection
I found these in and around Minnesota, Iowa, South Dakota, and Nebraska.
Rainbow Beading
Now these four photos from the American Indian Beading collection is a beaded Indian purse and it has over 50.000 beads in it and a lot of my family's hard work. It is made from cut glass beads. It has two pictures on it one on one side and another on the other side of it.

Buffalo Beaded Purse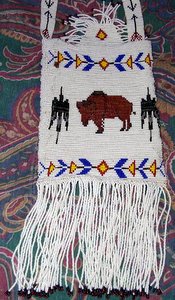 Buffalo Beaded Purse CAoseup
Indian on Horse Beaded Purse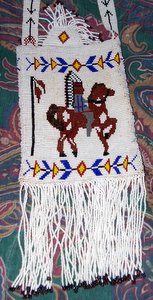 Indian on Horse Beaded Purse Closeup
Well....I was vey interested to hear from Mike and am happy to display his family's American Indian Beading collection here on my site.
Red, Orange, Yellow, White & Black Beading
I grew up in Sioux Agency in Yellow Medicine County in Minnesota near Echo, Granite Falls, and Wood Lake. It was there that part of the Sioux Uprising took place that Denny mentioned.
Rose Colored Beading
On a farm owned by my cousins, Harold and Arlene Soper, near Wood Lake, there is a large monument for this war.
Sunburst Beading Necklace
There was a government agency for the Indians not far from my home and today there is a reservation near-by.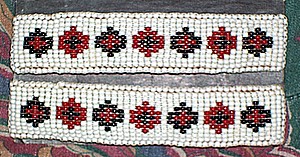 White, Red & Black Beading
And my brother, Mike, has found bullets from this uprising on my friend, Muriel Odden's childhood farm.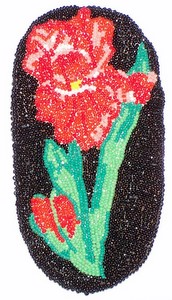 Red Iris Beading
We have found American Indian artifacts on my childhood farm, where my 87-year-old mother still lives. I used to love roaming our pasture trying to visualize those by-gone days when Indian camped by the creek.
Yellow Red & Blue Flower Beading
She used to threaten us kids when we were "acting up" that we'd better behave or she'd drop us off at the Indian reservation.
Somehow this endeared me to the Indians....maybe I thought I'd end up there someday!
Beaded Necklace
Also, one of my favorite teachers in high school was the Indian Chief's wife, Mrs. Blue. She had a way of reaching us teenagers like no other.
Black, Blue & White Beaded Necklace
So to have Mike contact me was like coming full circle...and I'm glad to do something special for Mike and his family.
I think his American Indian Beading Collection is totally awesome!
Read about a 2,000 year old pearl necklace from Iowa here after American Indian Beading Collection.
Learn about the history of Native American beading here.
Visit Michaele Glenn's interesting website Support Native American Art:A website to increase awareness of the rich diversity of Native American arts and crafts, to help in acquiring these works, and help preserve this unique cultural heritage.