Susa Pearls -- Oldest Pearl Necklace?
The necklace of Susa pearls is at the bottom of the photo below.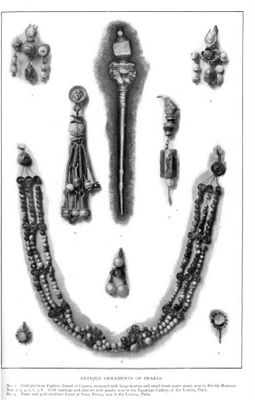 Susa Pearl Necklace from Before Christ
It was at the Persian Gallery in Louvre museum about 1908, but when I visited the Louvre in 2006, I photographed this necklace which looks to be the same one.


Ancient Pearl Necklace in Louvre photo by Kari
There is no record as to when the first pearl necklace was strung, nor is there a definite record of the first use of silk for restringing a necklace.
The earliest illustration that is available of the use of pearls in the form of a necklace is the one found at Susa, in which the Susa pearls were secured with gold.


Ancient Pearl Necklace in Louvre photo by Kari
This Syrian necklace, dating about one or two centuries before Christ, was strung by means of a bronze wire.
This necklace is one of the most interesting of all ancient pearl necklaces, containing more pearls than any other that has been found, and in a better state of preservation.
It consists of three rows, each containing 72 pearls, so that there are 216 in all. Ten gold bars, formed of three small disks, each about five millimeters in diameter, divide the necklace into nine equal sections; at each end there is a disk, ten millimeters in diameter, to which the three strands are secured.


Ancient Pearl Necklace in Louvre photo by Kari
If there was any other setting, it has evidently disappeared, although it is quite possible that there may only have been a string at each end, as in the East Indian necklaces.
This ornament was found on the site of the ancient Susa or Shushan by M.J. de Morgan, February 10, 1901, in a bronze sarcophagus, which contained the skeleton of a woman, adorned with a great number of gold ornaments set and encrusted with precious stones.
M. de Morgan give circa 350 B.C. as the probably date of these objects.


Ancient Pearl Necklace in Louvre photo by Kari
This date falls near to when Queen Esther lived in Susa. It certainly sounds like it was a queenly person in the sarcophagus. To learn more about Queen Esther you will enjoy the recent movie called, "A Night With the King."
The pearls were much deteriorated. About 238 were found but many of them crumbled away when they were touched.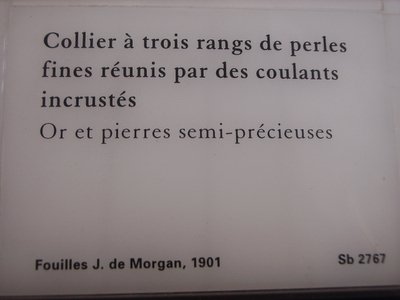 Description Ancient Pearl Necklace in Louvre photo by Kari
M. de Morgan considered that the necklace was of the type of the "dog-collar" of today, and he believed that it originally comprised from 400 to 500 pearls.
Thanks to Kunz and Stevenson for this information and picture from their 1908 book.
See photos of a 2,000 year old pearl necklace found in an Iowa Indian mound after Susa Pearls.
Enter your E-mail Address

Enter your First Name (optional)

Then

Don't worry -- your e-mail address is totally secure.
I promise to use it only to send you Pearls of Wisdom.

Search here.