Royalty Pearls...from Ancient Days to Modern Times
Royalty pearls..yes, royalty and pearls regularly and with predictability, marry one another.

Official Hungarian Crown
Iranian Crown Jewels

Queen Elizabeth wearing a whopper of a pearl earring.
Royal households would send their jewelers to be trained there and if they wanted an orient (sea pearls) rather than river pearls, (called Margaritas and not as lustrous) they'd send to Constantinople (modern day Istanbul) for them.
Istanbul is not known for pearls today. Some pearls I've seen there are sold by weight...the only place I've seen pearls sold by weight.
Constantine himself wore...at all times, traditional Persian regalia. Even in battle, his helmet was gold gilded and studded with pearls and precious stones. And of course, in court, he wore a gold crown complete with purple velvet and a diadem of pearls.

Another royal ruler of Constantinople, Justinian, who ruled during the golden age of the city, A.D. 527 to 565, is recorded ont eh famous mosaic at San Vitale in Ravenna wearing a cap totally covered with royalty pearls and jewels while his wife, Theodora, in the same mosaic is covered with long pearl necklaces almost to her waist and wears a tiara with three rows of pearls.
During his reign the fabulous St. Sophia cathderal was built. For 1,000 years it was the largest enclosed space and magnificantly decorated...complete with a pulpit studded with thousands of royalty pearls.
This incredible structure is one of my favorite places to visit in Istanbul. Our oldest son, Andrew, who lives across the Bosporus from St. Sophia, and I love to go there with a detailed guide book and ponder the place for hours.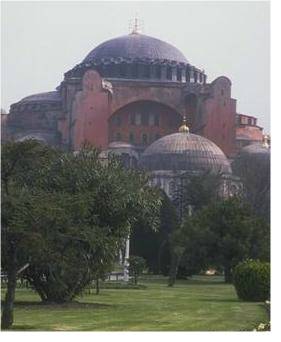 Back to Justinian...a cloth heavily covered with pearls, rubies and diamonds that "shone like the sky bedecked with a multitude of stars," covered his throne.
Still other royalty died with their pearls.
Royal King Perezes(chronicled by Procopius) "in the very monent of falling into the pit into which he had been intrapped by the feigned retreat of the Huns, tore from his right ear his great pearl, the glory of his realm, and cast it before himself into the abyss, there to be eternally lost amist the hideous chaos of crushed men and horses."
Traditional gold crowns of royalty with circlets of pearls became popular during the 8th century with Pepin of France.
Click here to see Eugenia of France decked out in jewels.


The painting shows the Empress Eugenie wearing the diadem made by Fonteney in 1858, from her personal possession, a brooch in form of a trefoil, gift of the emperor and earrings with pearls of her personal jewels, together with a string of pearls with pearl-drops from the crown-jewels.
The crown is first of all decorated with emeralds and later transformed to hold pendant pearls....see both versions.


Queen Victoria's Jubilee Pearl Jewels...click here to see them worn by a very happy-looking Queen Elizabeth II!
This famous royalty pearls necklace, a gift of the people of Canada for the popular Queen's Golden Jubilee, contains 26 pearls and 300 diamonds. As a part of the Crown Jewels, it didn't belong to her personally, but to the Crown. Several royalty pearls are owned by the Crown, including this necklace, the George IV Diadem, crowns, septers, reglaia, Hanovrian Fringe,William IV brooch and wheat ear brooches, Timur Ruby Necklace, certain pearl bracelets and diamond bracelets.
But before you start groaning with sympathy for the Queen and royalty of England, rest assured they have plenty of the "good stuff" in their own private jewelry boxes!...jewels such as the pearls of Mary, Queen of Scots, and the fabled Cullinan diamonds.
Royalty Pearls
In the May 1994 issue of Victoria Magazine, page 44 (what a pity this is no longer being published...but, yippee, it's not being published again, since I first wrote this) is a delightful article about Queen Elizabeth II's jewels, taken from the book called, "The Jewels of Queen Elizabeth II," by Leslie Field.
As a baby she received a pink-coral necklace and some of here first royalty pearls were a delicate diamond pendant with a pearl drop which her grandmother, Queen Mary gave her.
And, of course, she had the traditional royalty pearls as a gift from her father, King George VI, which consisted of two pearls on a thin platinum chain. Queen Victoria had given similar royalty pearls to her own five daughters at birth and added two pearls each year. This "Add-a-Pearl" system was popular then and is still available today.
Queen Elizabeth acquired a dainty flower-basket brooch and on her twenty-first birthday she received a pair of diamond-ivy pins. On her wedding day in 1947, she wore a diamond crown once belonging to King George III, which her mother inherited.
Princess Anne, as a baby wore the same pink coral necklace as her mother, Queen Elizabeth II and her grandmother wore. Other childhood jewels naturally have been passed on to her.
The article has a photos of each of the royal babies wearing the same coral necklace...Princess Anne, Queen Elizabeth II, and the Queen Mother. It was lengthen with pearls at one point in time.
George V, on his Silver Jubilee in May 1935, presented each of his granddaughters, Elizabeth and Margaret with a pearl necklace (there's a delightful photo of them wearing them while staning beside their parents. The Queen mother also is wearing a triple strand of royalty pearls in this photo). Two years later in 1937 on their father's coronation they wore their beloved pearl necklaces.
Read more about royalty pearls here.



Special thanks to Joan Younger Dickinson for her book, THE BOOK OF PEARLS--which provided me with some of this information.
Search here.