Baroda Pearls -- Over $7 Million
This famous Baroda necklace sold at Christie's Auction in New York City for $7,096,000.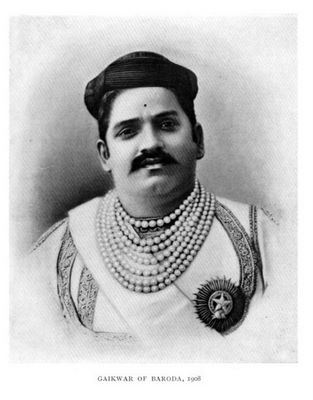 Famous Pearls
The following description is used with permission from Christie's Jewellery.
MAGNIFICENCE, ROYALTY AND SPLENDOUR: FAMOUS PEARLS
Christie's is honored to present the magnificent and legendary natural pearl necklace, symbolic of a bygone era of Indian splendor-The Baroda Pearls. The necklace has been coveted throughout history, and its appearance at auction represents a monumental event for jewelry collectors and connoisseurs worldwide. Worn through the centuries and across generations by the Indian Maharajas of Baroda, this necklace has been documented endlessly as the epitome of elegance, extravagance and rarity, sentiments embodied by the powerful and endearing Gaekwars of Baroda.
"At certain seasons do the oysters lie
With valves wide gaping t'ward the teeming sky And seize the falling dews, and pregnant breed
The shining globules of the 'Ethereal seed." (Marbodus Redonensis (ca. 1035-1123), a naturalist, described the origins of pearls in his 'De lapidibus praetiosis'
The simple and elegant nature of a pearl makes it one of the most enduring of jewels. Throughout history, the natural pearl has always been prominent amongst the wealthy and powerful and at certain periods in time, was made available almost exclusively to Royalty. In India, the pearl was treasured most among all other gems and was used prolifically, adorning the magnificent royal dress of the Maharajas and woven into elaborate screens, decorated pillars and doorways. India's desire for pearls was insatiable for centuries and the rich source for supplying this demand was located mainly near the coast of southern India.
The Maharajas would become known for their lavish taste and ornate decorations, which would reach near mythical proportions. Their desire for vast quantities of pearls to adorn their crown jewels was limitless. Word of their boundless riches and luxurious taste spread quickly and certain princely families began to make headlines, most notably the Maharajas of Baroda.
Considered to be one of the most notable jewelry collectors of the Nineteenth century, the Maharaja of Baroda, Khande Rao Gaekwar (r.1856-1870), possessed an unparalleled collection of state jewels. Perhaps one of his most remarkable acquisitions was the famous "Star of the South" diamond, a Brazilian diamond of 129 carats and the "English Dresden", a remarkable drop-shaped diamond of 78.53 carats. Both mesmerizing stones were set together in a triple-tiered diamond necklace often worn by the Maharaja.
In addition to diamonds, it is believed that Khande Rao came to possess an extraordinary necklace composed of seven strands of perfectly matched and graduated natural pearls. Referred to as The Baroda Pearls, each luminous strand radiated elegance, wealth and power, and would be the prized possession of Royal Gaekwars of later generations. According to the Reverend Edward St. Clair Weeden, an Englishman who visited Baroda in 1909, the pearls were worth fifty lakhs of rupees, equivalent to #500,000, making it at that time, the most expensive piece of jewelry owned by the Gaekwar of Baroda.
Khande Rao' successor, his estranged brother Malhar Rao (r. 1870-1875), took a particular liking to diamonds that ultimately led to his demise. He allegedly poisoned his predecessor's commander-in-chief, Colonel Phayre, by mixing diamond dust, arsenic and copper into his daily sherbet. Though unproven, this incident cast a shadow over his reign and hastened his dismissal due to his unsatisfactory governing of Baroda. As there was no heir, a boy from another branch of the Gaekwar lineage was adopted. The twelve-year old second son of a farmer from a remote village, Sayaji Rao Gaekwar III (1875-1939), would become one of Baroda's greatest modern leaders.
Sayaji Rao's substantial education opened doors to European learning and society. He traveled extensively, and by studying other cultures, implemented great improvements to his state, such as promoting health care and education, addressing social injustice, developing communication networks, and even establishing a museum to bring fine art to the region. He also believed strongly in Indian nationalism and was celebrated for his strong beliefs in a free India. His wife Chimnabai, a progressive thinker, also contributed to the development of the state. Chimnabai was an adventurous and self-assured woman who was passionate about gemstones and pearls and loved to show it. She made many of the purchasing decisions and would take pleasure in outwitting the European jewelers with her keen knowledge about diamonds. It was during her extensive travels that she became acquainted with the House of Cartier. It has even been suggested that Jacques Cartier's first trip to India in 1911 was prompted by an invitation from Chimnabai and Sayaji Rao.
Sayaji Rao's successor, his grandson Pratapsingh Rao (r. 1939-1947), was mainly recognized for his marriage to his second wife Sita Devi, a young beauty referred to as "The Indian Wallis Simpson," and was known for her strong personality and her passion for jewels. She received jewelry from the Baroda Treasury, dating back to Mughal times, as well as the superb three-row diamond necklace that suspended the "Star of the South" and the "English Dresden." She also was given countless Indian gems by Pratapsingh Rao, and with these, she would commission celebrated jewelers to create masterpieces. While many of Sita Devi's jewels were sold in later years--including a pair of superb natural pearl and diamond ear pendants, by Van Cleef & Arpels (Christie's Geneva, May 17, 2000 for $304,292)--the seven-strand pearl necklace remained part of the Baroda Royal Treasury.
Pearl necklaces of such important size, quality, signature and provenance rarely appear on the market. Christie's had the privilege of auctioning two exceptionally important natural pearl strands. In November 1999, Christie's Geneva sold a single-strand pearl necklace, which belonged to Marie-Antoinette, Princess of Hungary and Bohemia, Archduchess of Austria and Queen of France, and later by the American Woolworth heiress Barbara Hutton. Comprising forty-one graduated pearls, measuring approximately 8.50 to 16.35 mm, this superb single-strand necklace sold for a then world record of $1,450,000. Five years later in November 2004, Christie's Geneva offered a two-strand pearl necklace--double the number of pearls and equal in size to the Marie Antoinette/Hutton necklace--which sold for $3,128,520.
Though these previous examples are significant, they are incomparable to the luminous Baroda Pearls. Christie's is offering two remaining, graduated strands from the most famous and sought-after pearl necklace in history. Comprising each strand are the most perfect and largest pearls selected from the fourth, fifth, sixth and seventh rows of the original seven-strand necklace. All sixty-eight radiating pearls, measuring from approximately 9.47 to 16.04 mm, are impeccably matched in color, luster, size and shape, and are joined by a stunning cushion-cut diamond clasp mounted by Cartier. Complementing this royal treasure are a pair of natural pearl and diamond ear pendants, a brooch, and a ring en suite. This supreme example of exceptional provenance, most likely never to occur again, offers collectors "the ideal pearls", a belief first embraced by Indian Royalty centuries ago.
Lot Description:
A MAGNIFICENT SUITE OF PEARL JEWELRY Comprising a two-strand natural pearl necklace, of sixty-eight graduated pearls, measuring from approximately 9.47 to 16.04 mm, to the circular-cut diamond foliate clasp, set with an old mine-cut diamond, weighing approximately 8.57 carats, mounted in platinum; a pair of ear pendants, each suspending a drop-shaped pearl, measuring approximately 13.34 - 15.08 x 22.26 mm and 14.40 - 15.01 x 21.05 mm, within an old European and old mine-cut diamond surround, to the button pearl surmount, each measuring approximately 12.56 - 12.62 x 10.85 mm and 12.31 - 12.76 x 9.28 mm, within a similarly-set diamond surround, mounted in silver-topped gold; a brooch, set with an oval-shaped pearl, measuring approximately 17.17 - 19.16 x 15.09 mm, within a bezel-set old European and old mine-cut diamond foliate surround, mounted in platinum; and a ring, set with a button pearl, measuring approximately 14.62 - 14.90 x 13.52 mm, flanked on either side by graduated baguette-cut diamonds, mounted in platinum, with French assay mark
Necklace clasp signed Cartier

With report 9803056 dated 16 March 1998 from the Gübelin Gemmological Laboratory stating that the two-row necklace consisting of 68 graduated pearls are natural
With report 9803059/1-4 dated 16 March 1998 from the Gübelin Gemmological Laboratory stating that the 2 button pearls and the 2 drop-shaped pearls are natural
With report 9803057 dated 16 March 1998 from the Gübelin Gemmological Laboratory stating that the oval-shaped pearl is natural
With report 9803058 dated 16 March 1998 from the Gübelin Gemmological Laboratory stating that the button-shaped pearl is natural
Read more about Baroda Pearls.

Tumbling Black Pearls on Mississippi River