Baroda Pearls At Auction
Two Strands of the Baroda Pearls will be up at auction on April 25 at Christies in New York.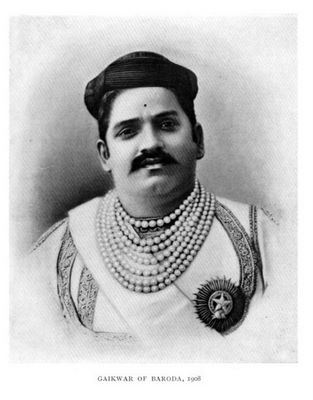 Baroda Pearls
According to the video the royal family does not want these sold. I don't blame them. After all they were made for the Mahratta Gaikwar of Boroda in the 1800's.
BUT, apparently, there is nothing legal to stop the auction...so some lucky person or country will soon own two strands of these natural pearls, which are said to be the finest in the world.
They are expected to sell for between 7-9 million USD.
History of Baroda Pearls & Indian Pearl Ornaments
Among the greatest jeweled treasures of India are those of the former Mahratta Gaikwar of Baroda, who had precedence over all the rulers in India at all functions, and was one of the most prominent and enlightened of the Indian princes.
He governed a province of about 8,225 square miles and 2,415,396 inhabitants in the northwestern part of India, 248 miles north of Bombay.
Most of these treasures, whose value in 1908, when the Prince of Baroda was living, was estimated at half a million dollars; a litter set with seed-pearls, quantities of unstrung pearls, and more remarkable yet, a shawl or carpet of pearls, which closely resembles the "tippet" at Teheran described by Brydge.
This carpet is said to be ten and one half feet long by six feet wide, and to be made up of strings of pearls, except that a border, eleven inches wide, and also center ornaments, are worked out in diamonds.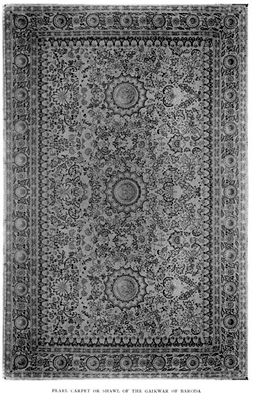 Baroda Pearl Carpet India
Some writers assert that the costly ornament was originally intended by the late Mahratta Khandarao as a covering for the tomb of Mohammed.
Others state that it was designed as a present for a woman of whom he was enamored, but that the British resident interfered, claiming that the wealth of Baroda was not sufficient to warrant such an expensive gift on the part of the ruler.
The ornament was retained among the regalia at Baroda, and is probably the most costly pearl ornament in the world, its value, in 1908, being estimated at several million dollars.
Special thanks for this information from Kunz and Stevenson as recorded in 1908.
More famous pearls here after Baroda Pearls.
Free Newsletter all about Pearls!
Search here.