Could this be the World's Largest Blister Pearl?
Still Attached "Pearl of Elias"
Could this be the world's largest blister pearl or maybe the largest attached blister pearl? I am not saying it is...just wondering. Please let me know if you have seen a bigger one.
This pearl, Pearl of Elias (recently named), is huge and I will be adding more pages and photos about it here on my site with links to them from this page.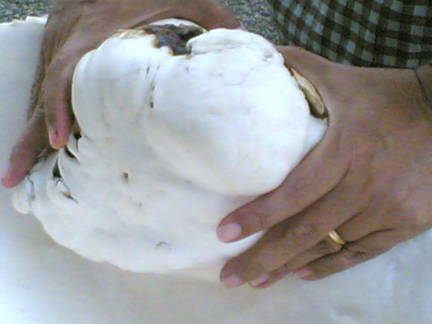 Large Attached Blister Pearl
Here's a comparison with the Pearl of Allah.
This is from and still is attached to a giant clam, the Tridacna gigas.
The clam is large and weighs 87 kilos.
The size of the pearl is evident when next to the man's hands.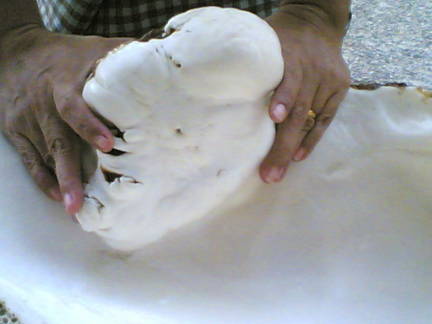 Largest Blister Pearl?
This pearl was found about 30 years ago in about 1977. I don't think there is any exact record of the date it was found.
Big Blister Pearl
The top surface measures 9 inches.
After speaking personally with the owner, he says this:
"Badjao divers dive to get seashells to sell and got this giant clam along with other shells.
We ordered clams and included in the order was this one like the Pearl of Allah.
We ordered the clams and told the seller, "You can bring the clam (which had the giant attached pearl) along with the other clams." He thought maybe the clam was a reject because it had a huge lump of some sort, however, we paid extra for it because we knew it had collector's value.
At that time we did not realize its true value, but a newspaper in our country featured it as another "Pearl of Allah", so we kept it in our private collection."
Very Large Blister Pearl
So...what do you think? Could this be the world's largest attached blister pearl?
I understand that the Pearl of Allah is also a blister pearl which has been cut out of its shell...so could this pearl be the largest blister pearl that is still attached at least be the world's second largest pearl?
See more natural blister pearls here.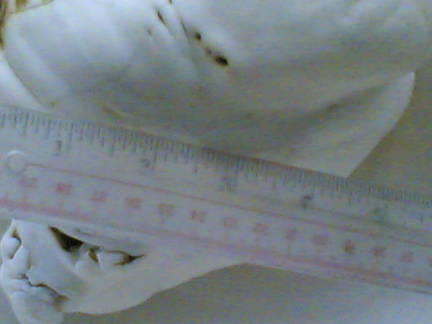 Larger Blister Pearl Measurement
You'll probably never see another enormous pearl like this one, except for the Pearl of Allah.
This pearl is for sale. Please contact me, Kari, for further information or to make an offer. Mention: "Pearl of Elias". Serious buyers only, please.
How did Pearl of Elias
get its name?
See a comprehensive comparison of Pearl of Allah and Pearl of Elias here.
Go to more links for natural pearls after largest blister pearl.
Read about the Pearl of Allah.
National Geographic video of Giant Clam
Read what Kunz & Stevenson say about Tridacna Gigas mollusks.