The Case of the Missing La Peregrina Pearl
Read about Elizabeth Taylor's shock when she lost La Peregrina and found it...where?
La Peregrina, said to be the most famous pearl in the world, is to be auctioned off on December 13, 2011 at Christie's, 20 Rockefeller Plaza, New York City. Estimate is $2,000,000 - $3,000,000. The only piece of her jewelry with a higher estimate is her famous diamond ring with an estimate of $2,5000,000 - $3,500,000.
Items for sale can be previewed but a ticket must be purchased in advance.
A search on the internet for Christies Auction Elizabeth Taylor will help you find detailed information.
I've read various reports of this incident...and am glad to have the facts straight from Elizabeth Taylor herself through her book, "My Love Affair with Jewelry," published by Simon & Simon. The book may be purchased at their website: Simon Says or on Ebay at bottom of this page. Some are signed copies.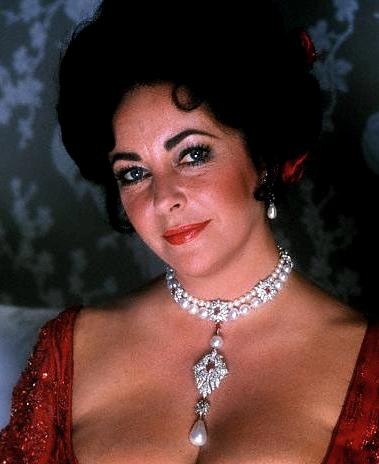 Elizabeth Taylor Present Owner of Famed Pearl (Used with permission)
The following is a quote of her story.
"I had just received La Peregrina from New York on a delicate little chain (note:Elizabeth has redesigned the necklace for La Peregrina. When she received La Peregrina it hung from a long chain with spaced natural pearls.) and I was touching it like a talisman and sort of walking back and forth through our room at Caesar's Palace--we had the whole top floor and the crew had 1/2 of it. So I was dreaming and glowing and wanting to scream with joy, but Richard was in one of his Welsh moods, and his joy...well his was a Welshman, so sometimes his joy was perverse and he would become dark. But when I'm happy I shout and scream it and yell it and I wanted to throw myself at him and kiss him all over. But because I knew Richard very well, I had to play it by ear, and I knew that this was not the moment to become too demonstrative. Just the same, there was no one to talk to and no one to show the jewel to, and I was going out of my mind! At one point I reached down to touch La Peregrina and it wasn't there! I glanced over at Richard and thank God he wasn't looking at me, and I went into the bedroom and threw myself on the bed, buried my head into the pillow and screamed.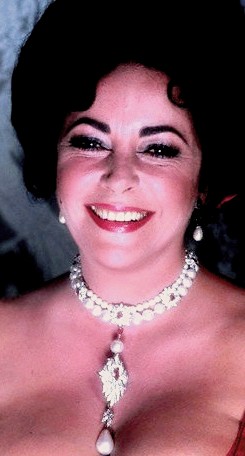 The Famous Pearl on Elizabeth Taylor (Used with permission)
"Very slowly and very carefully, I retraced all my steps in the bedroom. I took my slippers off, took my socks off, and got down on my hands and knees, looking everywhere for the pearl. Nothing. I thought, "It's got to be in the living room in front of Richard. What am I going to do. He'll kill me!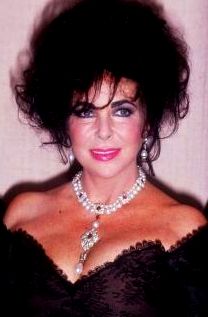 Elizabeth Taylor Wearing the Famed Pearl (Used with permission)
"Because he loved the piece. Anything historical was important to him. La Peregrina is unique in the world of gems. It's one of the most extraordinary pieces there is. And I knew that he was proud inside, which was why he was being like this cartoon with a black cloud over his head and raindrops falling.
"So I went out and sort of started humming lalalala, and I was walking back and forth in my bare feet, seeing if I would feel anything in the carpet. I was trying to be composed and look as if I had a purpose, because inside I was practically heaving I was so upset. I looked over and saw the white Pekingese, which was mine, and the orangy-brown Pekingese, which was Richard's. That dog worshiped him. All the puppies--it was their feeding time--were around the bowls munching. So I looked at the dogs, saying, "Hi babies, such sweet babies." And I saw one chewing on a bone. And I did the longest, slowest double take in my head. I thought, "Wait a minute, we don't give our dogs, especially the puppies bones! What is he chewing on? And I just wanted to put my hand over my mouth and scream again. But no, I just casually opened the puppy's mouth and inside his mouth was the most perfect pearl in the world. It was--thank God--not scratched.
"I did finally tell Richard. But I had to wait at least a week."
Side note: Earrings to match La Peregrina were given to Elizabeth Taylor by Aaron Frosch years after her 40th birthday. Elizabeth says, "Aaron and Richard were like brothers and I worshiped him. He was our lawyer forever and took such good care of Richard and me!"
The earrings are natural pearls and diamond pendants by Bulgari. She wore them in the movie "Ash Wednesday" (1973). (She often wore her own jewelry in movies.)
Read about more famous pearls like La Peregrina here.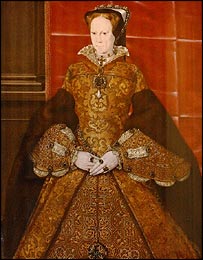 The painting of Queen Mary, by Flemish artist Hans Eworth. In the painting, the monarch is wearing a giant pearl - known as La Peregrina - which was bought for actress Elizabeth Taylor, 400 years later.
Read complete article about this painting: "Tudor portrait to go on display" here.
La Peregrina pearl - which is the size of a pigeon's-egg - was given to Mary, the daughter of Henry VIII and his first wife Catherine of Aragon, by her future husband.
More about La Peregrina pearl
Purchase Elizabeth Taylor's Black Pearls Perfume
Watch a video of Elizabeth Taylor endorsing her Black Pearls Perfume.