Young Gemologist
by
Sue Schuck
This young gemologist is a student named Steven, 14, who is just finishing 8th grade.
I have always taught Home/Hospital School for my home town of Glendale, California. Some years I have nine students but this year I only took one student because I am a horse breeder and apartment owner as well and getting older! I am well credentialed and able to teach every subject K-12, so I get the brighter kids, and usually the cancer kids, which tends to be my "specialty" since few can smile at and make a very sick child laugh.
Steven was diagnosed with leukemia three years ago. Since his father could not get top line treatment for him in Europe, he moved here with Steve, Steve's grandmother and her sister and his father's brother, just to allow Steven to be treated at the City of Hope hospital.
I have never seen a father who is more of an advocate for his only son, and I have never taught a student as intelligent as Steven. He will someday be a MENSA member and I am honored to be his teacher.
For two straight years, this young gemologist was radiated, given strong chemo, prodded, pricked and deathly ill. Since no family member was a good bone marrow doner, umbilical blood was used to replenish his bone marrow after he was in a germ free room for three months at a time. The first try did not work, but the second round of all of the above took, and he went from near death several times, to a young man wanting to learn everything about everything. He is an old soul and loves being challenged. He has a love of Mathematics, and we have already finished the Algebra I and started Geometry.
Steven's love for Math did not extend to Science, because he saw no connection between the two disciplines, so, since I am an amateur gemologist, I decided to teach Science and History by buying small gemstones of each "family" for him and learn Scientific Analysis by discovering the gem origins, faults, treatments and chemical compositions. He loved it and still does.
In the last year, he learned enough to rival most gemologists. That knowledge took me some thirty years to learn! He can sort and spot valuable gems, knows the globe like the back of his hand and can read any chemical compound fluently and understand what each chemical does to color or shape a gemstone.
This young gemologist also has a collection of rough specimens, provided by the loving people at a certain jewelry/gemstone network. Many of my fellow collectors have donated rare gemstones and he researches their origin, treatments, etc. until he can look at a pile of gemstones and find indicolite tourmaline or chrome diopside at a glance.
He has also learned to use the refractometer, dichroscope, and every possible inclusion that points to place of origin of each stone. That got him interested in optics, gem faceting, and so many other Scientific points NEVER learned in a public school situation. It made him feel special. He is now the gem collector, not the "cancer kid".
A month ago he asked me about Nature's Organic Gemstones: pearls, coral, etc. So I got out my pearl books, and we were able to get several Tahitians, a few white Chinese cultured, and two 11mm golden. He found out about the conch pearls and quahog and mussel pearls.
Years ago, before the typhoons and the tidal wave, I got strands of coin pearl and biwas, etc. and now there are few places to even find a baroque or potato pearl. He read The Pearl for literature and the pearl bug bit him. He now knows patinas, hue, etc. better than I do!
The young gemologist and I are still looking for one of each of the "strange pearls" and they don't have to be large, just fairly good quality. It is the best way to learn anything....holding it in your hand!
No profit will be made, because he clings to his collection and would never part with anything. If any of your readers or clients have an odd piece of coral or pearl, I would be glad to pay for it. It doesn't have to be large, just a good example.
Kari's Note: Sue was able to purchase a blue and a pink natural pearl from salt water blue mussels found in New Brunswick, Canada, through KariPearls.com.
This boy also goes deep sea fishing with his father, so pearls fit right in with his other love, fishing. They do the Catch and Release fishing, and Steve knows so much about fish and their care, but he can't afford a tank large enough to hold live fish. So he has pictures, and the one Coy he did raise, he put into the pond at the City of Hope and they used a picture of it in their fund raising catalog. Neat!
After all he has been through, like Pinocchio, this young gemologist just wants to be a real boy, be done with the medical tests and have a "normal" life. He is my hero.
Again if you have any odd shaped pearls, please let me know so I can buy him one of each. He so loves getting the boxes in the mail.
Next Friday his old school is letting him "graduate" with the children who went through school with him. That means so much to him.
His motto is "Every day is special which is why we call each day "the present".
To him every day he is cancer free is a major present.
Sue Schuck Home/Hospital teacher for Glendale unified Schools.
Return to main People & Pearls page after Young Gemologist.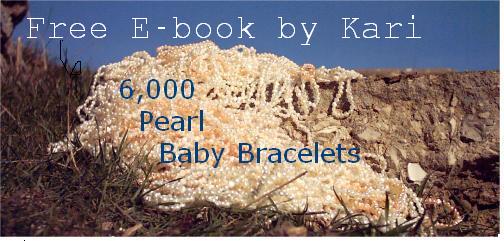 Click above for Free Children's E-Book by me.
Enjoy my free book about 6,000 Pearl Baby Bracelets