Empress Eugenie - Popularized Pearls
Learn about Empress Eugenie who is credited with making black pearls popular. See her in some of her favorite jewelry...pearls!
To this queen, pearls owe much of their high rank in fashion in the nineteenth century; and on her head they were royal gems royally worn, as appears from Winterhalter's portrait of her, showing her magnificent necklace.
Portrait of the Empress Eugenie (1826-1920)
Buy This Allposters.com
The fashion had always been for white and yellow pearls; consequently, black pearls were of little value in the markets until about 1855, when they became fashionable in Europe largely through their popularity with the Empress of France, then at the height of her power.
Purse with a Portrait of the Empress Eugenie Inset
Buy This Allposters.com
The summer of 1862 was most favorable for pearling, owing to the dryness of the season and the low water, and unusually large quantities of pearls were found. Queen Victoria is said to have purchased one for forty guineas;others were bought by the Empress and by the Duchess of Hamilton.
Empress Eugenie also purchased the Tiffany Queen Pearl found only 17 miles from Tiffany's in New York City. It's because of her ownership it acquired the name "Queen Pearl".
Portrait Miniature of the Empress Eugenie
Buy This Allposters.com
It was told that when the Eugenie of France was finishing her toilet preparatory to her wedding in Notre Dame in 1853, a personal attendant reminded her of the ill omen of wearing pearls on your wedding day, and begged that she refrain from wearing her pearl necklace on that occasion. Eugenie paid no heed to the warning and wore the beautiful jewels just the same; and, as all the world knows, her life has been one long tragedy.
Emperor Napoleon III and Empress Eugenie, c.1865
Buy This Allposters.com
Eugenie, the wife of Napoleon III, may be said to have brought black pearls into favor; she owned a splendid necklace of black pearls which was sold at Christie's, after the fall of Napoleon, for the sum of $20,000. Some time later, the Marquis of Bath bought, at Christie's, the pearl which formed the clasp of the necklace, paying $5,000 for it; he destined it for the center of a bracelet.
Empress Eugenie
Buy This Allposters.com
That pearls change but slightly is evidenced by the fact that a splendid necklace belonging to Queen Eugenie, which was purchased about the year 1860, is in as good condition today (1908) as when it first passed into the hands of the unfortunate empress of the Second Empire.
Jewellery Cabinet Belonging to Empress Eugenie de Montijo Guzman 1852-70
Buy This Allposters.com
After the downfall of Napoleon III the jewels were inventoried, and, by a law passed December 10, 1886, it was decreed that a large part of the treasure should be sold at public auction.
Portrait of Empress Eugenie 1854
Buy This Allposters.com
Pearl parure of the crown jewels of France, worn by the Empress Eugenie and sold at the Tuileries, May 12, 1887.
A diadem containing 212 pearls, weighing 2,452 grains.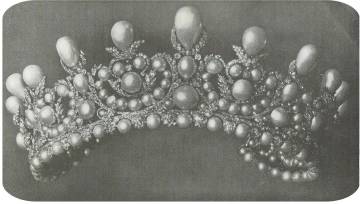 Pearl Diadem worn by Empress Eugenie
I recently saw this in the Louvre Museum. Wow!
A coronet with 274 pearls, weighing 984 grains.
Four brooches, each containing four large pearls, two round, two pear-shaped, and three smaller ones, weighing in all 1,496 grains.

A larger brooch comprising four large pear-shaped pearls, each weighing 100 grains. In the center is the pearl called "La Regente."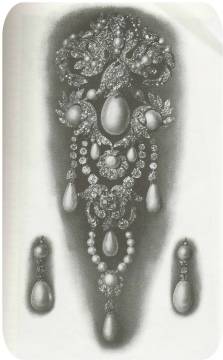 Sevigne of French Crown Jewels
with The Regent Pearl
Two necklaces each consisting of forty-seven pearls, with an aggregate weight of 698 and 1,612 grains, respectively.
Two bracelets with 202 pearls, weighing 2,000 grains.
Five buttons, three with nine and two with ten pearls.
A necklace of 542 pearls, weighing 6,752 grains.
Another necklace of 362 pearls, weighing 5,808 grains.
Two other necklaces, each containing fifty-eight pearls, the total weight being 400 and 524 grains, respectively.
Information from Kunz Book of Pearl, 1908.
More details about Empress Eugenie and her pearls sold at auction.