French Crown Jewels at Auction
Crown Jewels Sold after Fall of Napoleon III
French Crown Jewels at Auction 1886...turning point for the French Republic. Find out which jewels were sold and for how much.
I have seen this fabulous crown at the Louvre Museum in Paris...no photos were allowed, but read about the sneaky tourist who tried.
After the downfall of Napoleon III and the proclamation of the French Republic, the jewels were inventoried, and, by a law passed December 10, 1886, it was decreed to offer a large part of the French crown jewels at auction. The sale was held in the Pavillon de Flore, a part of the Palace of the Tuileries, on May 12, 1887, and, very naturally, all the principal gem-dealers and collectors were represented.
A number of remarkable pearl ornaments were among the objects offered at the French crown jewels at auction, one of the most beautiful being a diadem of an exceptionally artistic openwork design, adorned with large, round pearls and surmounted by a row of magnificent pear-shaped pearls. The total number of pearls in this diadem was 212, and their weight 1452 grains. It was sold for the sum of 78,000 francs ($15,600).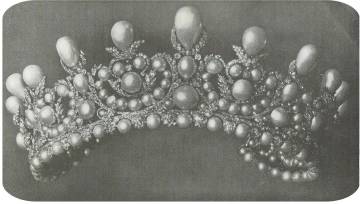 Empress Eugenie's Pearl Diadem
I've seen this in the Louvre
The coronet which accompanied the diadem comprised 274 pearls, weighing 984 grains; the design was similar to that of the diadem, but the points consisted of a round and a pear-shaped pearl in alternation. This ornament realized the sum of 30,000 ($6,000).
A brooch of very elaborate and beautiful design, beside a number of smaller pearls, comprised four fine, pear-shaped pendants, weighing 100 grains each, and two choice bouton pearls, and had in the center the famous pearl known as "La Regente," which was purchased in 1811 for 40,000 francs ($8,000). This splendid ornament brought the sum of 176,000 francs ($35,000).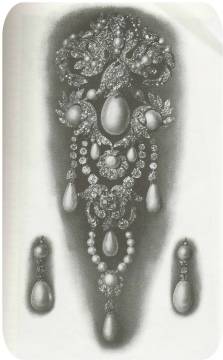 La Regente--Upper Center
Read about the French Empire's influence on Georgian jewelry.
More articles in French crown jewels at auction:
Four other brooches each contained seven pearls and many brilliants, the twenty-eight pearls having a total weight of 1496 grains, an average of more than fifty-three grains. Each brooch had two pearls surrounded with brilliants, and five large, pear-shaped pearls set as pendants. They were sold to different purchasers at prices ranging from 18,500 francs ($3700) to 43,000 francs ($8600), the four together realizing 113,500 francs ($22,700).
Necklaces in French crown jewels at auction:
Six pearl necklaces were also offered in the French crown jewels at auction. One of forty-seven pearls weighing 698 grains was sold for 34,600 francs ($6920), and two others, each consisting of fifty-eight pearls, with a total weight of 524 and 400 grains respectively, brought the sum of 22,300 francs ($4460) and 15,000 francs ($3000). Another necklace composed of thirty-eight round pearls and nine pear-shaped pendants, the total weight being 1612 grains, sold for 74,300 francs ($14,860). The two finest necklaces were broken up into a number of separate lots. One of them, consisting of 362 pearls and weighing in all 5808 grains,--an average of a trifle over sixteen grains,--was offered in four lots which together brought 295,800 francs ($59,160). The other necklace comprised 542 pearls weighing 6752 grains, and was disposed of in eight lots, realizing in all 331,800 francs ($66,360).
Bracelets in French crown jewels at auction:
Two bracelets adorned with 202 pearls and a number of small brilliants were purchased for the sum of 90,000 francs ($18,040). The total amount realized for the pearl ornaments was 1,261,500 francs ($252,300). There are several American ladies who own single strings of pearls which are of more value than the whole pearl parure of the Empress Eugenie.
French Crown Jewels at Auction:
Pearl parure of the crown jewels of France, worn by the Empress Eugenie, and sold at the Tuileries, May 12, 1887.
*A diadem containing 212 pearls, weighing 2452 grains.

*A coronet with 274 pearls, weighing 984 grains.

*Four brooches, each containing four large pearls, two round, two pear-shaped, and three smaller ones, weighing in all 1496 grains.

*A larger brooch comprising four large pear-shaped pearls, each weighing 100 grains. In the center is the pearl called "La Regente."
*Two necklace each consisting of forty-seven pearls, with an aggregate weight of 698 and 1612 grains, respectively.

*Two bracelets with 202 pearls, weighing 2000 grains.

*Five buttons, three with nine and two with ten pearls.

*A necklace of 542 pearls, weighing 6752 grains.

*Two other necklaces, each containing fifty-eight pearls, the total weight being 400 and 524 grains, respectively.
Information on the French Crown Jewels at Auction as recorded in 1908 by Kunz and Stevenson in "The Book of the Pearl".
Go to main famous pearls and collections after the French Crown Jewels at Auction.
Also see Crown Jewels of France.