Poems with Pearls
Famous Poets
Poems with pearls to enhance your communication with those you love.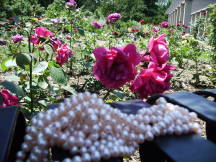 "The Revolt of Islam" by Shelley
"The deep's wealth, coral, and pearl, and sand
Like sprangling gold, and purple shells engraven
With mystic legends by no mortal hand."
"The Baudois Teacher" by Whittier
And my pearls are pure as thy own fair neck,
With whose radiant light they vie.
Old Epitaph from Yorkshire, England
"In shells and gold pearls are not kept alone,
A Margaret here lies beneath a stone."
Words of King Claudius, Shakspere
Here, he alludes to pearls being added to a drink for a toast: (In the fifteenth and sixteenth centuries, the word, union, was frequently used for pearl.)
"The king shall drink to Hamlet's better broth;And in the cup an union (pearl) shall he throw,
Richer than that which four successive kings
In Denmark's crown have worn."
John Webster's "Duchess of Malfi"
(1623, Act III, sc 5:)It's long been thought that dreaming of pearls fortells of tears...as in this encounter.
Duchess:
' I had a very strange dream to-night;
Methought I wore my coronet of state,
And on a sudaine all the diamonds
Were chang'd to pearles.'
Antonio:
'My interpretation
Is, you'll weepe shortly;
For to me the pearles
Doe signifie your teares."
Pearls on Your Wedding Day?
Although wearing pearls on one's wedding day is widely practiced today...and I highly endorse this...naturally...years ago they were thought to bring tears to the marriage....and the longer the necklace...the more abudant the woes as in the following poems with pearls.
Milton refers to the Marchioness of Winchester:
"And those
perls
of dew she wears,Prove to be presaging tears."
Owen Meredith:
"As pure as a pearl,
And as perfect: a noble and innocent girl."
Go to main pearl story page after poems with pearls.
Photos and Text © by www.karipearls.com