Two Quahog Pearls in One Mouthful - Check this out!
by Joseph Pinheiro
(Jamestown, RI USA)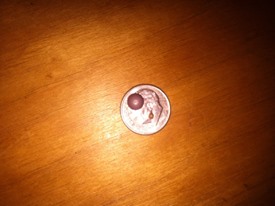 I am a Commercial Fisherman and Aquaculturist. I went diving one day to get some large quahogs, so I could make some stuffies for my family.


As I was eating, I felt crunching...
At first I thought it was probably pieces of the shell, but the possibility it was a broken pearl lingered in my head. Either way i figured it would be a good idea to take it out of my mouth and not swallow it.
When I looked in my hand, low and behold, 2 Quahog Pearls!