Hi,



Thanks for signing up for my free ezine....an online magazine all about the wonderful world of pearls!

I have just returned from a pearl conference in Dubai. It was great fun meeting so many pearl lovers and while I was in the Arabian Gulf area I took the opportunity to do more extensive natural pearl research.

One thing I enjoyed seeing and learning about is the hand drilling of natural pearls. Many natural pearls are still drilled this way.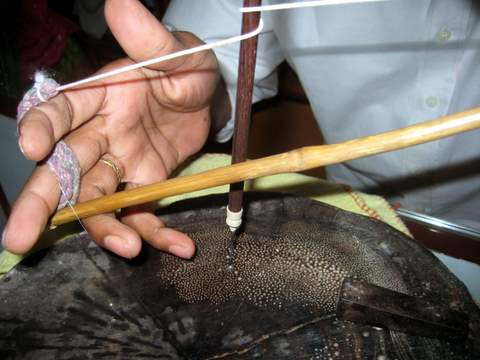 Drilling A Seed Pearl by Hand
A slice of coconut wood is used to hold the tiny seed pearl secure while water is applied and the pearl drilled using a basic hand powered drill.
Several drill sizes are used according to the size of pearl.
Natural Arabian Gulf pearls come in all sizes and shapes while the larger round pearls with pinkish overtones are the most valuable.
Here you can see a video I took of the hand drill in use and more detailed photos.
I am pleased to announce that soon I will be adding natural Arabian Gulf pearl jewelry for sale on my site. One great thing about natural pearl jewelry is that it is an investment and in these economic times it's important to not just make purchases, but to make investments. Each piece will come with a certificate verifying authenticity....coming soon.
The Arabian Gulf countries are fascinating, but I will say it is also good to be home.
Take care,
Kari
Toll free: 1-866-884-7815