Hi,



Thanks for signing up for KariPearls free e-zine.

Without mother of pearl there would be no pearls and vintage mother of pearl buttons from historic Muscatine, where I live, make up into lovely jewelry.

Ever since I moved to Muscatine I've been super interested in the local pearl button industry. Years ago there were several button factories here. Today three button factories remain but they only make plastic buttons now.

I've been able to secure some of the vintage mother of pearl buttons and have made them into original designs for you. It's like wearing a piece of American history. There are limited amounts of these historic "Made in USA" mother of pearl buttons.
Vintage Mother of Pearl Necklace
This random, asymmetrical beige mother of pearl necklace contains about 30 vintage buttons in various sizes. The idea came from a crocheted button necklace in our local museum. Each necklace is unique.
It's been a popular item.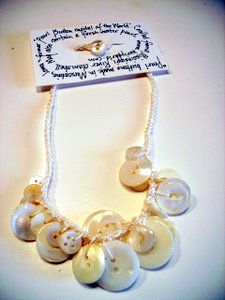 I gave one of these to Tessa when she graduated from our local community college. She loved it and when her friend, Susanna, saw it and found out it was from me, Susanna pleaded with me, "Kari, I'm graduating too. Could you give me one of those?" Then after Tessa's sister, Caitlin, saw the vintage button necklace she quickly ordered one for herself.
Order Vintage Mother of Pearl Necklace
Black Mother of Pearl Pendant
These big super-sized vintage black mother of pearl buttons make great pendants and combined with colorful furry yarn they are totally smashing!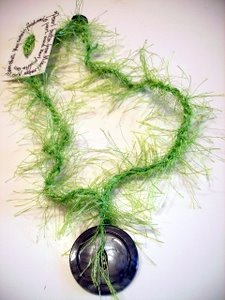 I love wearing these. They add a splash of color (several colors available) to brighten up the most basic of outfits.
Order Black Mother of Pearl Necklace
Want to Sell A Quahog Pearl?
Susan, who works with young cancer patients by teaching them about and letting them handle real gemstones, is wanting to purchase a purple Quahog pearl of at least 3mm. She's willing to pay up to $300. Please contact me if you want to sell one.
Share and Receive Free Pearls
The next four people who share their pearl knotting adventures will receive a free strand of white freshwater pearls....so don't be shy. We'd love to hear about your attempts.
Visit Me
If you're nearby or in the area of Southeastern Iowa, please give me a call and set up a time to visit me.
Jenny, from Lousiana, who is working with local engineers designing new flood walls for New Orleans, stopped by a few days ago and purchased some souvenir pearl button jewelry for her niece.
I love meeting my website guests!
My toll free number: 1-866-884-7815
Do Good
Remember to do good and share. It's not only helpful to others but therapeutic for you! I've been setting aside some Tuesday afternoons for local volunteer work. It makes me feel great!
God bless, Kari