Hi,



I was fascinated watching this mussel opened before my eyes during a visit to a pearl farm. Notice all the small pearl sacs? Some of them contained gorgeous lavender pearls. Who would expect something so beautiful to come out of this!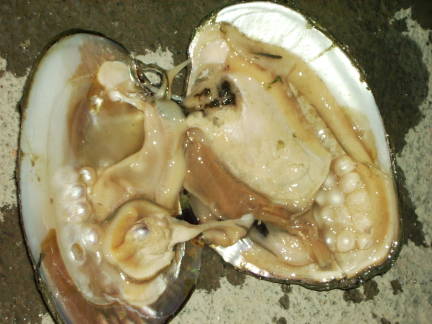 Freshwater Pearls photo by Kari
Freshwater mussels can grow several pearls at one time. That's one reason for the affordable prices of freshwater pearls. Different colors of pearls can also be grown in one shell. It was thrilling to see brilliant lavender, pink and white pearls emerging from this mussel. You may enjoy watching the videos I took of harvesting bushels of pearls here.
I want to offer you this Mother's Day Special of an excellent lavender pearl necklace set.
I've decided to discount a lovely lavender...natural color, of course...pearl necklace set for this upcoming Mother's day.

Lavender Set on Sale
This exquisitely hand knotted 17" necklace of 8mm button pearls has a sterling silver clasp and matching drop earrings. Even in the photo you can see the wonderful luster of the pearls with near perfect surfaces.
I recently had this item appraised and was very please with the result.
Appraised value $265.
I'm offering this lavender pearl necklace for $54.00
Free Shipping! Free Silky Gift Bag ready for giving & 90 Day Return
Go here for more photos and info about this lavender pearl set.
I will send this as a gift package to a location different than your address if you want. Just let me know the details.
As a mother of seven, yes seven! amazing young adults, I love to honor other mothers on this special day.

Kari
Toll free: 1-866-884-7815