Pearl Farming at its Finest...View Pearl Video Clips
I just had to try my hand at Pearl Video!

Ever wonder how those gorgeous freshwater pearls got from the mussel to your necklace?
Enjoy these video clips and find out.
Watch these amazing pearl video clips to get an inside look at these important steps toward making freshwater pearls available to the world.
This was a large operation with several employees. They worked fast and furious and enjoyed having their photographs taken.
When I showed them a preview on my camera...they broke out into hysteric laughter.
This was great fun.
Thanks to everyone who let me take their photo!
Freshwater pearl farming is not clean, tidy work, but much like the farm work on any farm around the world, it is associated with mud and muck.
At one point as I was kneeling down to take these pearl video clips, my long jacket was dangling in the mud. Thankfully, someone pointed that out to me right away, so I could lift it out of mud and mucks way.
During the pearl button days here in Muscatine, Iowa from the 1800's into the 1900's local people recall also the smell of rotting mussel meat and the bugs that come from available meat scrapes stuck in the harvested mussels.
One local man said his most vivid recollections were of the huge roaches. I thought of his comment when we returned back to our hotel room after taking these pearl video clips and a fat roach crawled out from a pants cuff...yuk...I hate roaches. But, I'm glad that these folks are willing to endure the mess to give the world these amazing gems...pearls.
Notice that there are several pearls in these mussels. This is one of the main reasons why freshwater pearls are more affordable than sea pearls...more can be grown in one shell, plus a shell nucleus in not required. Tiny pieces of mantle tissue will each grow a pearl, making freshwater pearls essentially all nacre through to the center.
Also notice the variety of colors in the basket of rinsed pearls. These colors, lavender, peach, black, white, and pink occur naturally, with a single mussel producing different color pearls. When the mussel is first opened they all look white. That's because they're still in their pearl sacs.
Steps in Pearl Harvesting with Pearl Video Clips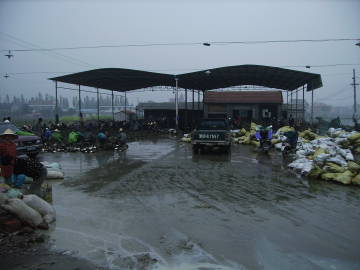 Large Pearl Harvesting Operation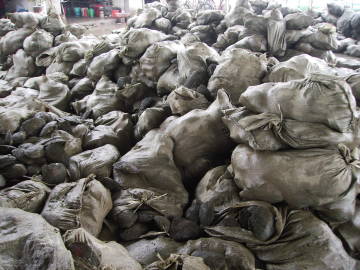 Sacks of Freshly Gathered Freshwater Mussels
Mussels brought in by the wagon load in gunny sacks from near-by pearl farms.
Video--Opening the Mussels with cleavers
Video--Workers Removing Pearls and Meat


Pearls and meat scraped out of mussels. Pearls that are slightly stuck are chipped loose. When wathing the video...notice the blister pearls.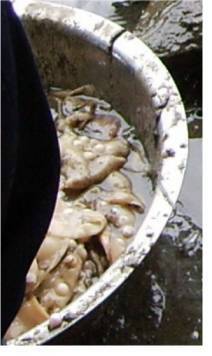 Meat and Pearls in Pan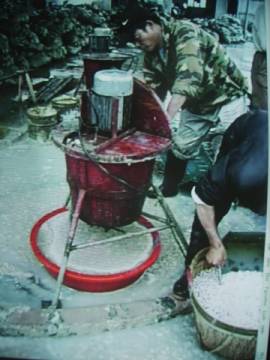 Agitator
Pearls and mussel meat are then put into an agitator which separates pearls from meat.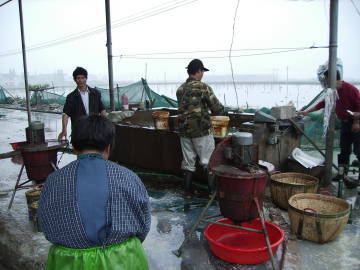 Pearl Washing Area
Pearl Video--Rinsing Pearls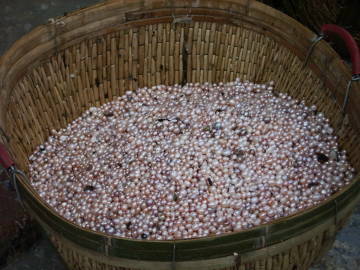 Basket of Colorful Fresh-Freshwater Pearls
Pearl Video--Shoveling Pearls into Sacks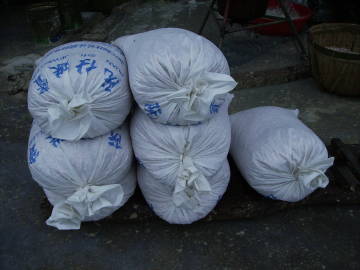 Sacks of Pearls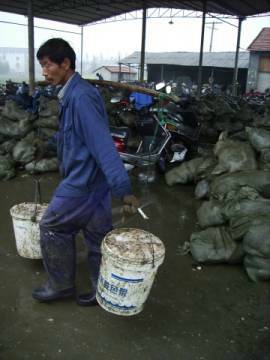 Man with Buckets of Mussel Meat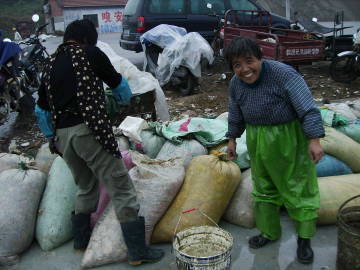 Happy Workers with Sacks of Meat
Meat is carried away by buckets and sacked. I don't know what it's used for.
Shoveling Shells into Wagon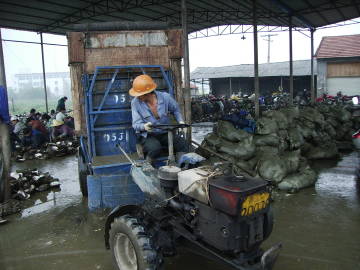 Carrying Away Empty Shells
Pearls are delivered to the pearl factory for sorting.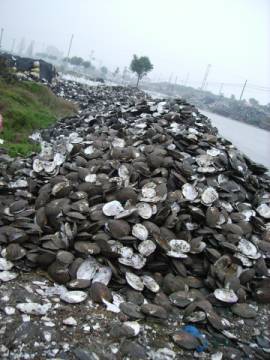 Empty shells line road ways in this productive gathering place.
Go to Main Pearl Farm Page After Watching Pearl Video Clips
Go to Pearl Factory for More Video Clips after Watching these Video Clips
I had to try out the digital video option on my new camera while visiting this pearl harvesting place. I've been super happy, by the way with this little TRAVELER camera. It's the second camera purchased at Aldi's grocery store....yikes...buy a camera at a grocery store? That's what I first thought, but they assured me I could return it if not happy. Well, as it turns out Aldi's does tremendous research on their electrical products before offering them for sale. I was happy. So, here are some of my first attempts at "movie making." Who knows, maybe I'll win an Oscar! Well...maybe not this year.