Hi,



Thanks for signing up for my free ezine....an online magazine all about the wonderful world of pearls!

My husband made refreshing mulberry eggnogs this morning for breakfast. Eggnogs are a great way to get some protein quick and easy. You can check out my husband's growing list of eggnog recipes on his website.

http://www.grassfedrecipes.com/egg-nog-recipes.html
Visiting a Pearl Farm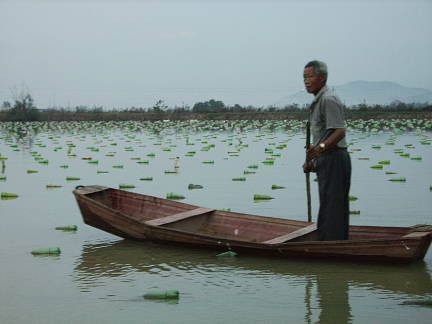 I had sooooo much fun visiting this small pearl farm not far from Shanghai, China.
It was a little hike out to the pond through rice fields. The workers in the fields enjoyed having me snap their photo....they have such big smiles!
The fellow standing in the boat lives right next to the pond in a small shanty. When the owner asked him to gather some mussels he got out his boat and poled himself to the middle of the pond.
The green bottles you see are used as floats and hold up lines which have net bags with mussels in them.
This farmer buys the mussels already nucleated with about 50 tissue implants in each mussel. Most freshwater pearls in China are tissue nucleated which means they do not have a shell bead inside.
This pearl farm worker opened five mussels with a machete revealing several pearls in each large shell. The pearls were a rainbow of colors and lovely right out of the shell.
I was thrilled when they gave the pearls to me as a gift. I couldn't stop looking at these gorgeous pearls in so many colors, sizes, shapes, each one unique and special.
I hope each of you can visit a pearl farm someday.
https://www.karipearls.com/pearl-farm.html
More Quahog Pearl Finds
Leighton's Pearl Still in the Shell
I Recommend This Sale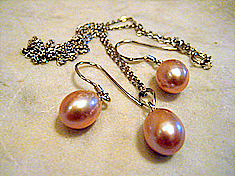 I've put these sterling silver pearl drop sets (4 colors: white, pink, black and lavender) on sale now until JUlY 4, 2008.
Pay only $30 per set instead of the regular $55.
Check them out here.
https://www.karipearls.com/jewelry-pearl-set.html
Thanks for your prayers
Thanks for all the prayers for the Iowa flooding. We were not personally harmed by the water and things are slowly getting back to normal for those who were.

Be blessed,
Kari
Toll free: 1-866-884-7815