Hi,



Welcome! Thanks for signing up for my free e-zine.

I'm having a blast making KariPearls.com, my website about pearls.

Steals and Deals....just in time for Christmas giving. I've put several items on a "Two for One" sale. Yes, it is true. Buy one pearl necklace at regular price and get another identical item for FREE!

This is a great time to buy some pearls...one to give, one to keep or two to give away. Each necklace comes in a lovely silky gift pouch ready for gift giving.

You can also stock up on my popular baby bracelets and child bracelets on this sale..."Buy One Get One Free". People have been purchasing these and using them for fund raisers. They can easily be sold for much more than I am asking. For years I have been a very active volunteer in my community and I know how important fund raising is for non-profit organizations.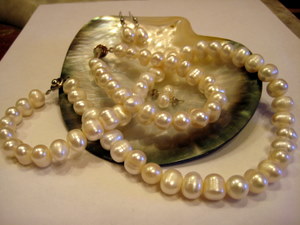 This lovely baroque white pearl set is one example of my current Two for One sale. This set was already priced very affordably...and now is a steal.....buy one and get one totally free....yes, I must be crazy!
Check out the other deals here.
I have a limited supply of these sale items. This "Two for One" sale is only While Supplies Last.
There are also many other interesting new addtions to my site...please check out my blog for all the lastest news and updates. For example, you will enjoy seeing the Quahog pearls that have been found.
God bless you all at the Christmas Season.
We have just had a lovely ice storm here in Iowa and God has decorated our landscape as only He can do. I took some of my morning to try and capture the icy beauty on our sheep farm with my camera....but nothing really compares to seeing the brilliance of every twig coated with ice and every fence line with icicles shimmering in dawn's early light.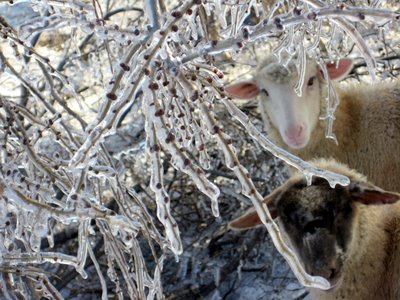 May the joy of Jesus fill your hearts every day!
Kari