Hi,




Welcome! Thanks for signing up for my e-zine.
I'm having a blast making KariPearls.com, my website about pearls.
It's really fun now, as I'm meeting more of my Pearly website friends....
Share the Joy of Finding Natural Pearls!
More surprised folks have found natural pearls. Take a look and leave a comment.
Check out the Diogelorcas Pearl from the Giant Clam found in the Philippines. This one is for sale.
Here's a lovely 48.18 carat freshwater blister pearl found in India.
No photo of this one, but read why finding a pearl in Alabama on this Lucky Night was so special.
And after years of diving for Abalone, Allen, of Sacramento, was rewarded with two gorgeous Abalone pearls.
Diane, of North Carolina, didn't find natural pearls, but did find real pearls in a junk shop.
Have you found a pearl? If so, tell the world about it and add a photo. Others will be able to comment.
Show Off Your Favorite Pearls
Show the world your favorite pearl jewelry. Whether is a simple pearl strand you wear all the time, or a fancy designer creation. Show off your favs!
Tiffany in Disguise was a brilliant find.
Historic Natural Pearls Up for Auction
Some fabulous natural pearls owned by Calvin & Kelly Klein and formerly owned by the Duchess of Windsor, will be up for auction at Sotheby's on December 4. Just thought you'd like to know.
Kari Pearls Sale Through November
Through November I will give you a free pair of pearl stud earrings with every order over $100.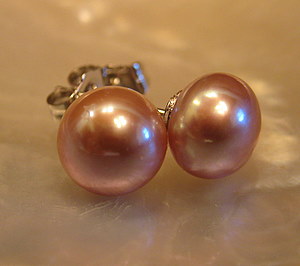 These are up to a $35 value and will come with a colorful silky gift pouch, ready for gift-giving. Contact me for your choice of earrings, or let me pick a pair for you. They are available in white, peach, black or lavender.
This is a great way to get some early Christmas shopping completed.
One of my favorite thoughts: "Better is little with righteousness...."
Be Blessed,
Kari