DOUBLE NATURAL ABALONE PEARL PENDANT

(United Kingdom)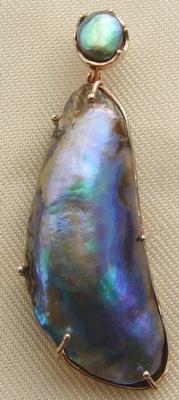 Double abalone pearl pendant
Natural Abalone
Size:
Large Pearl 46mm or 1.8 inchesSmall Pearl 9mm
Color:
Iridescent blue, green, silver
Origin:
New Zealand
Metal:
10K Gold
Price:
$3,329 SOLD!
I am what many might be described as a pearl fanatic having had a long relationship with these beautiful gems, seeking out antique and vintage strings on the many buying trips I make around the U.K. There are many varieties especially the natural kind almost impossible to find because of their rarity. But that does not deter me from trying. So I am sure that you will understand the thrill when I saw for the first time this fabulous natural abalone pearl pendant containing not just one but two pearls. I know that they are rare so I just had to have it. It is without exception one of the most superb pieces I have discovered with two of the most beautiful pearls I have ever seen. The pearls are just sensational with the most magnificent iridescent colour. The larger pearl is 1 13/16 inches long the smaller pearl set into the bail is just 5/16 inches set into a tasteful and elegant unmarked but tested and guaranteed 10K gold mount.