Contact KariPearls

Kari Anderson
1575 Underwood Avenue
Muscatine, IA 52761
Tollfree phone: 1-866-884-7815
You are welcome to view my pearls at my office.
Please call ahead to make an appointment.
Thanks for visiting my website, I appreciate each guest. I've taken my interest in pearls and created a profitable business.
You too, can turn a hobby into a profitable website.
Buy KariPearls Gift Certificates
Links and Resources


Special friends who have helped me with my business:
Jaime Baker--Model
Selina Padilla--Designer
Laura Evans--Model
Sign up for "KariPearls E-zine"
It's been suggested that we put something about our family on this website, so HERE GOES...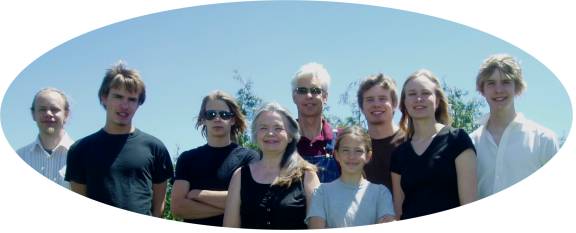 Growing Family Website: Globe-Hoppers
MARK
--Pastors the
Living Water
: chaplains at the local community college and raises sheep.Check out
Anderson Lamb
at
Eatwild.com
and at
Local Harvest.org.
Also, he is making his own website...check out the great recipes and facts about grassfed meat: GrassFedRecipes.

KARI--I'm developing this website on pearls, enjoy international traveling and helping my cousin with her site: Norway-Hei.
ANDREW, 32--Business graduate of the U of Iowa after living five years in Istanbul, Turkey working with TACO--Turkey-Afriasia Creative Outreach.

ETHAN, 29--Working for Church of the Living Water after volunteering in Israel for Kings Kids, and graduating in business from the University of Iowa.

ANNA, 26--Working online after teaching English in Korea with a Fulbright scholarship.
SAMUEL, 24--A US Marine Corporal.
MATTHEW, 22--Learning valuable house-building and car repair skills.
JOHN, 20--Senior at University of Iowa majoring in Political Science and a part of the ROTC program.
SARAH, 18--Attending Muscatine Community College majoring in agriculture.
Yup--seven children--you counted right!
Search here.
Photos and Text © by www.karipearls.com