Natural Abalone Pearl Pendant
& Loose Pearls
Toll Free: 1-866-884-7815
Exquisite antique natural abalone pearl pendants and loose pearls for sale.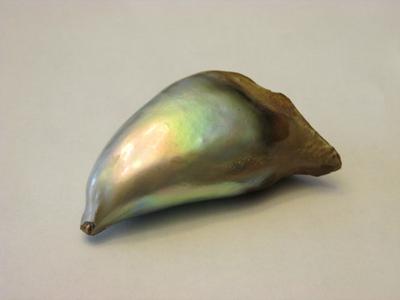 145 carat Abalone Pearl
Carat Weight: 145.63 carats
Shape: Horn
Size in mm: 50mm x 36mm
Color: Multicolored
Location of Origin: Northern California
Certificate: GIA , New York
More photos
*Price: $60,000 Contact Kari to purchase this pearl. Mention "145 carat abalone pearl"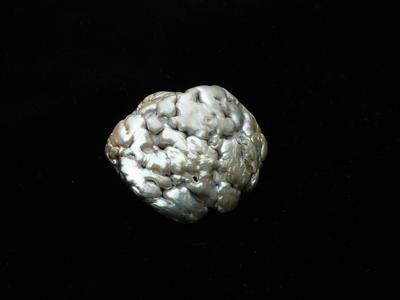 212.5 carat White Abalone Pearl
Type of pearl: Abalone Pearl from a California Haliotis sorenseni
Carat Weight: 212.5 carats
Shape: Baroque
Size: 47x47x21mm
Color is silvery-white shading to dove-grey with a pink and blue orient
Location of Origin: Bodega Bay, California
Unique Features: Extraordinary size, color and lustre
More photos
This amazing natural Haliotis sorenseni pearl was found off the coast of Bodega Bay, California and weighs an astounding 212.5 carats. The pearl was discovered by a local diver and artist who has carefully searched the Northern California coast for abalone pearls for over 30 years.
In early 2012, the diver retrieved a Haliotis sorenseni with an unusually deep shell measuring approximately 22x20x9cm. Inside and detached from the shell was a massive pearl measuring 47x47x21mm. The base color of the pearl is silvery-white shading to dove-grey with a pink and blue orient. The base of the pearl has been polished to display the concentric layers of nacre that form this solid pearl.
Extraordinary not only for its size and origin, this gem is extremely attractive and a very uncommon color for an abalone pearl. It may be the only pearl of its color, size, and quality in existence.
Price: $62,500 Contact Kari to purchase this pearl. Mention 212ct White Abalone Pearl.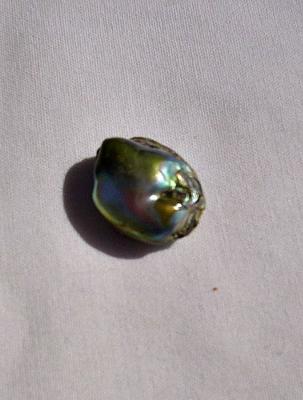 Type of pearl: Natural California Abalone
Weight: 6.5 carats
Shape: Roundish
Size: 12mm X 15mm
Color: Lovely Blue Green
Price: $2,640
More photos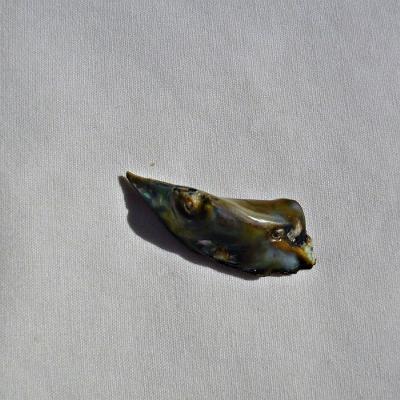 Carat Weight: 15.1cts
Size: 31mm x 11.5mm
Color: Multicolored
Price: $2,163
More photos
******************************************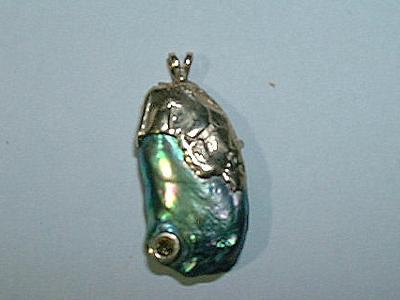 Carat Weight: 11.7 cts
Size: 24.63 X 13 X 6.16mm
Color: Green, Blue, Pink
Clasp Metal Type: 14k Yellow Gold 1.7 grams
Price: $2,400 Or Best Offer
More photos
******************************************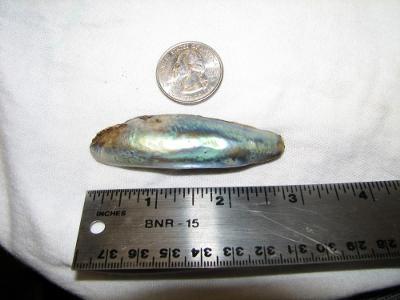 42 carat Pearl
Type of pearl: Abalone
Carat Weight: Approx. 42 carats
Shape: Approx. dugout canoe
Size in mm: 69 x 19mm
More
Price: $3,430 Or Best Offer!
***********************************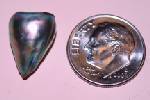 Pure Natural Beautiful Abalone Pearl
A beautiful smooth and almost flawless magenta, blue, green and metallic natural abalone pearl.
It is for Sale
Weight: 7.4 Carats
Size: 19mm X 7.9mm
Price: $3,399
****************************************************
Natural Abalone Pearls are also for sale on EBAY. Check out the selection here.
The following abalone pearls have sold.
***********************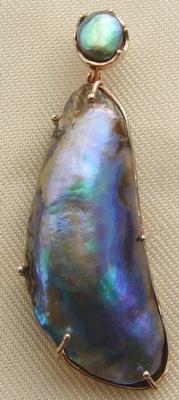 Double Natural Abalone Pearl Pendant
Natural Abalone
Size: Large Pearl 46mm or 1.8 inches
Small Pearl 9mm
Color: Iridescent blue, green, silver
Origin: New Zealand
Metal: 10K Gold
More Photos
Price: $3329 SOLD!
Kari's note: This exquisite double abalone pearl pendant showcases the two natural abalone pearls magnificently.
***********************************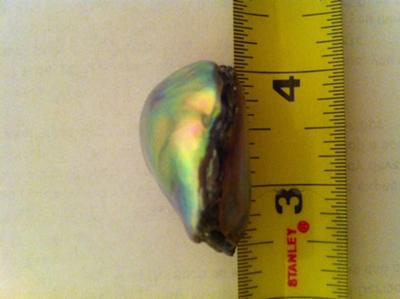 Carat Weight: 160.24 cts
Size: 41.00 X 32.30 X 21.20 mm
Color: Multicolored
(No longer available)
More photos
******************************************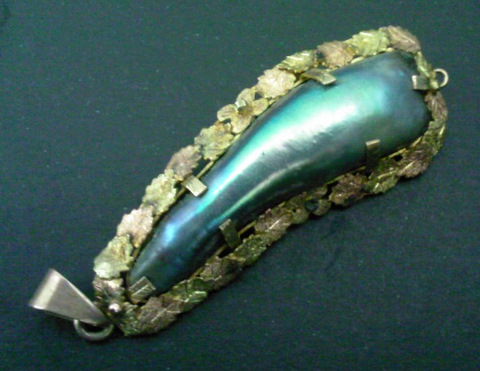 Abalone Pearl Pendant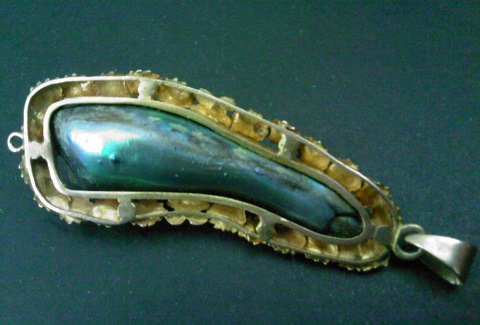 Antique Abalone Pearl Pendant
A few years ago, I received this pendant as part of a parcel of jewelry. I appraise antique jewelry, and I knew it dated from the early part of the 20th century and was fashioned from green and pink gold. The pearl was a mystery to me; large and beautiful, with a fine luster, but I had never seen anything like it. I put it away and forgot about it until I started visiting a local abalone farm. I showed it to the abalone farm owner the pendant and his eyes opened wide "That is the finest and largest natural abalone pearl I have every seen!" he said.
You can imagine my surprise when I learned what a rare and special gem I had. I collect ruby and sapphire; pearls, especially large natural pearls were new to me. I am offering this pendant for sale for $2,936 USD. I would like to see it added to the collection of a collector who will appreciate it.
My friend at the abalone farm told me that this pearl had formed in the gonad area of the abalone, which accounted for its fine luster and large size. The entire pendant, including the original bail is 2 1/4 inches. From the design of the pendant, I am quite sure that a natural American Mississippi river pearl hung from the empty jump ring at the bottom (If you contact the owner of this website, I am sure she can provide you with a Mississippi pearl to replace the lost one). I have not tested the gold in this pendant; I don't want to take the chance of damaging this exquisite and rare pendant, but I do believe it to be at least 10k gold.
SOLD!
Kari's note: This is one of the most tastefully designed natural abalone pendants that I have seen and I am proud to offer it for sale on my site.
***************************************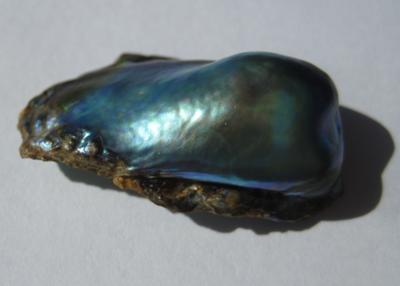 25mm Abalone Pearl
13.85 carats
25 x 14 x 7.5mm
Baroque Shape
More Photos
SOLD!
Kunz in his 1908 book of pearls says this about abalone pearls.
The abalones (Haliotidae) found on the coasts of California, Japan, New Zealand, and other localities in the Pacific, secrete pearly concretions, sometimes with fine luster.
Abalone pearls are especially interesting on account of their brilliant and unusual colors. Green predominates, but blue and yellow also occur. Although commonly very small, some of the well-formed ones exceed seventy-five grains in weight, and those of irregular shape may be very much larger. The ear-shells also produce many irregular pearly masses. Their beautiful greenish or bluish tints adopt them for artistic jeweled objects such as the body of a fly or of a beetle.
Abalones occur in many inshore tropical and semi-tropical waters, and particularly in the marginal waters of the Pacific. They attach themselves to the rocks by means of their large muscular disk-shaped foot, which acts like a sucker or an exhaust-cup.
On the California coast the abalones are gathered in large quantities for the pearls, for the shells and especially for the flesh, which is dried and used for food.
Experiments in growing pearls in the abalone or Haliotis were made in 1897 by Louis Bouton, an account of which was given at the meeting of the Paris Academie des Sciences in 1898. The tenacity of life in this mollusk makes it especially desirable for experiments of this nature. Through small holes bored into the shell, pellets of mother-of-pearl were inserted and placed within the mantle, the small holes being afterward closed up. Other nacreous pellets were introduced directly into the bronchial cavity. The objects were soon covered with thin, pearly layers, resulting in a few months in spheres of much beauty, resembling somewhat the pearls naturally produced by this mollusk. In sex months, according to M. Bouton, the layers became of sufficient thickness to be attractive. Within limitations, the size of the pearl produced is in proportion to the length of time it is allowed to remain within the mollusk. The results of the experiments seem to encourage further efforts in this line, and possibly in course of time there may be a profitable business in growing pearls in abalones on the pacific coast of the United States. Indeed, the experiments in transplanting and cultivating the pearl-oyster in Australia leads one to fancy that the culture of that species in the warm coastal waters of America is by no means an impossibility.
Go to main natural pearl catalog page after natural abalone pearl pendant.
Homepage for KariPearls
Abalone pearls for sale
Share it!
What Other Visitors Have Said
Click below to see contributions from other visitors to this page...