Gorgeous Natural Abalone Wing Shaped Pearl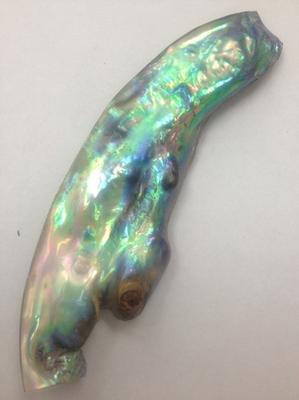 Gorgeous Natural Abalone Wing Shaped Pearl
Type of pearl: Natural Abalone pearl from New Zealand

Shape: Wing shape

Size: 98mm long, 29mm widest point, depth 5mm

Color: incredibly vivid intense blues and greens and flashes of mauves oranges and purples.

Location of Origin: New Zealand

Huge pearl with nacre on both sides not just one. Cut from shell along the back

Certificate: full appraisal available on request for $250 extra

Price: $16,800

Contact Kari to purchase this pearl. Mention "Gorgeous Natural Abalone Wing Shaped Pearl".

This pearl comes from the Chatham Islands off the coast. The nutrients and the cold temperatures of the water here make the colours of the "paua" as they are locally known particularly and intense and gorgeous. There is a very limited quota of wild Paua harvested by divers every year and only very very rarely do they produce a pearl at all and one this size and this shape would have taken over 20 years to grow. I starting collecting abalone pearls over 15 years ago and became later a goldsmith after exporting cultured and natural abalone pearls to Japan, Germany, Italy and Austria. This one has been in my collection for years and only now am I willing to part with this treasure.


Return to Listed - Abalone pearls.