Pearl Names
Pearl names are from the Greek word: Margarites.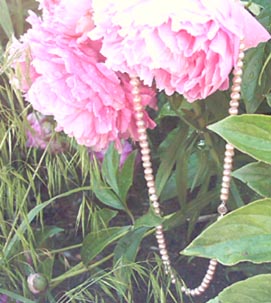 Therefore, the names and derivatives of
Margarita mean pearl.
In ancient times, these were considered holy
pearl names and
Mararita was often used for baby
girls of the pious and for beautified saints
in the language of Christian countries.
Female forms of Margarites=Pearl
Italian: Margherita and Rita
French: Marguerite and Margot
German: Margarethe, Gretchen and Gretal
English: Margaret, Marjorie, Madge and Margie
Men's titles derived from Margarites=Pearl
Gareth and Garrett
Two patron saints who were rechristened as "pearls," were:
St. Margaret Aethling of Scotland
Margaret, "the pearl of Bohemia," beloved of the Danes.
Pearls are highly symbolic ...anyone with a title from the above choices can be proud and hold their heads high...they too symbolize purity and quality.
Pearls themselves are sometimes named for their type as in Akoya, South Sea, Tahitian, Freshwater, or their shape, such as Button, Oval, Baroque, and in some countries they are named for shapes of local things like Shoppa which is a type of bread and pearls that look like that bread get that name. Be careful when choosing pearls, as some are called natural, when it is the color that is natural and not the origin. True natural pearls are ones found randomly in the wild and haven't been interfered with by man in any way. Also, in one country I visited all Akoya pearls were labeled "Mikimoto" pearls...so do your homework when buying pearls and thoroughly investigate a pearl name's true meaning.


Are you named Pearl? Or a Friend?
Is your name pearl? Or maybe you have a friend named Pearl. Would you like to write a page about a person named Pearl?
What Other Visitors Have Said
Click below to see contributions from other visitors to this page...

My Pearl Not rated yet
We had been married for 9 years before I became pregnant. I was placed on bed rest for half of the time and during that time I realized just how precious …
New Job for Pearl Not rated yet
A New Job for Pearl was written by Allyn Lee and illustrated by students in Connie Forslind's second grade class. This is the true story of Pearl, a …
A Man Named Pearl Not rated yet
A man named Pearl is a topiary artist! If you try to call topiary artist Pearl Fryar at his home in Bishopville, don't be surprised if you have to wait …
Pearl Not rated yet
I love the name Pearl, and I have given it to my daughter. It's a beautiful name meaning precious but a lot of people don't know it. It's a bit frustrating …
Daniel Pearl Freedom of Press Act Not rated yet
Daniel Pearl Freedom of Press Act - President Obama signed the Daniel Pearl Freedom of the Press Act on Monday morning, May 17, joined by six family members …
Special thanks to Joan Younger Dickson for her Book of Pearls, where this information was acquired.