Pearls as Symbol
What do pearls as symbol really stand for? What traits do they represent?
"The pearl owes nothing to man. It is absolutely a gift of nature on which man cannot improve."
..quoted from the great gemologist of the late 19th century, George Fredrick Kunz.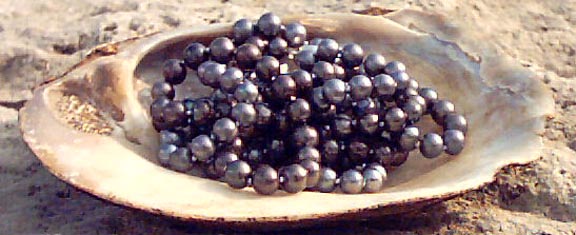 Black pearls in shell
Pearls represent virtues and people
...many also have been named for the pearl.
The pearl in Judeo-Christian recordings refer to the pearl as symbol of
Purity
Harmony
Humility
.
St. Augustine... after realizing that the pearl was not among the gems which signified the twelve apostles...
...declared that the pearl was reserved in this manner by God for
Jesus Christ Himself
.
This idea makes a lot of sense, when one thinks of the correlation between these two verses:
John 10:9 "I am the door; if anyone enters through Me, he shall be saved, and shall go in and out and find pasture." And:
Revelations 21:21 "And the twelve gates were twelve pearls: each one of the gates was a single pearl."
Jesus = door=Pearl gates of heaven
This fits well, as Jesus claimed to be the way into heaven...
John 14:6 "I am the way, and the truth, and the life; no man comes unto the Father, but through Me. Yet another symbol for which the pearl is used is for
Heaven
as in the following verse:
"The kingdom of heaven is like a merchant seeking fine pearls." Matthew 13:45
Since the PEARL, represents Jesus Christ himself...and Heaven,
it indeed also represents the:
ZENITH OF QUALITY AND GOOD TASTE.
Have you ever thought there should be more to life. Read my journey of finding the Pearl of Great Price.


In Matthew 7:6, in the famous Sermon on the Mount, Jesus says, "Don't cast your pearls before swine."


You can read about three aspects of this--literal, spiritual and creative--on the "Pearls Before Swine" page. Pearls as Symbol

You may also enjoy reading about Pearls in the Bible.

Salvador Assael, of Assael International says, "I find with pearls, more than with any other gem, endless parables for life itself."
And he adds, "The black pearl of Polynesia captures the rainbow after the storm. It is a symbol of hope for all humanity."


Special thanks to Joan Younger for her Book of Pearls for some of this information.


Looking for quality Bible Studies?
JesusWalk Bible Study Series: In-depth Internet Bible studies to build Christian disciples. Old & New Testament characters - Abraham, Gideon, Jesus. Books - Luke, Ephesians, Philippians, James, Revelation. Topics - the Church, the Sermon on the Mount, Christ's atonement.