25 carat One of A Kind Queen Conch Pearl Necklace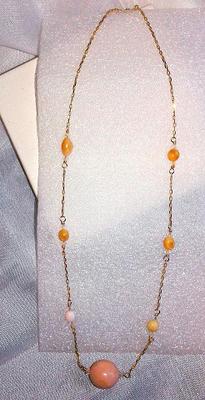 25 carat One of A Kind Queen Conch Pearl Necklace
Type of pearl: Queen Conch Pearls


Weight: 19 carats center pearl and 2 carats each smaller pearls


Shape: round / near round


Size: The largest center pearl is 13.59mm x 14mm


Color: The largest center set is light pink with tiny tan speckles or pretty "freckles" and the smaller pearls are mottled tan colour.


Location of Origin: Bahama Islands, Caribbean Sea archipelago


Metal: 14k Gold


Certificate: Seattle, WA, USA

Length: 17"


My father grew up in the Cayman Islands and was a commercial fisherman that chartered boats all over the southern Atlantic oceans collecting precious gems and pearls.
These very special pearls are from the Bahamas and were collected on a diving trip in the 1980's. Our family jeweler in Miami designed this unique pearl necklace on 14k gold with crystals that is a stunning one of a kind piece - there is nothing else like it!
Price: $6,270.00
SOLD!