Very Rare 372 Carat Pearl
Natural Nacreous South Sea
This rare 372 carat pearl has recently surfaced from the South Seas where it has been growing undisturbed and untouched by human intervention to its present majestic carat weight** (see below) and lustrous beauty.

372.46 Carat Pearl -- Top View
GIA Report Information (GIA Certificate Below)
Type Natural 'Hollow' Blister
Environment Saltwater
Mollusk Pinctada Maxima (Silver-lipped pearl oyster)
Length 58.25 mm
Width 32.70 mm
Height 20.97 mm
Weight 74.492 grams
Carats 372.46 carats
Shape Baroque
Color White
Treatments Filled
                  Partially coated
                  Worked
                  Polished
**This pearl is filled with foreign material and the surface and the luster have been modified. The weight is significantly affected by the fillings.
372.46 Carat Pearl -- Bottom View
This exquisite pearl with its magnificent luster and size has few equals.
Once a pearl like this enters a collection it generally remains there as a safely guarded jewel.
This is the kind of pearl that the merchant in the book of Matthew found in a field and then sold all he had so he could purchase the field and obtain the valuable pearl.
The owner of this pearl has named it "Star of Hope" as a tribute to his mother, whose name is Bituin (Star), and his aunt, whose name is Pag-asa (Hope), hence..."Star of Hope". The name is also fitting since if you notice that there is small protrusion in the pearl that could resemble a star that rests on a rock which signifies hope.
This pearl has a GIA certification of authenticity.
To me, this pearl epitomizes the ultimate in pearl luxury and beauty...the luster, size, baroque shape, unique characteristics....through my "pearl eyes" it is inconceivably beautiful!
A thing of beauty is forever!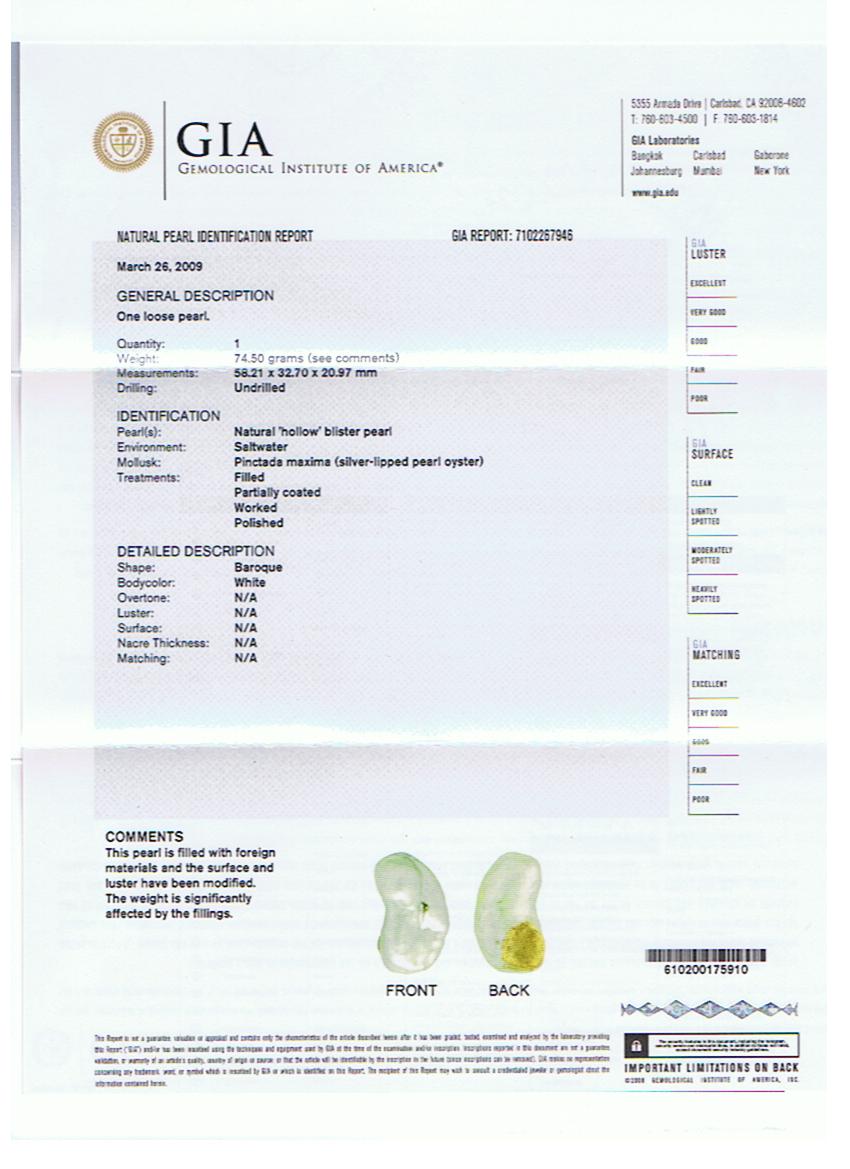 GIA Certificate for Star of Hope Pearl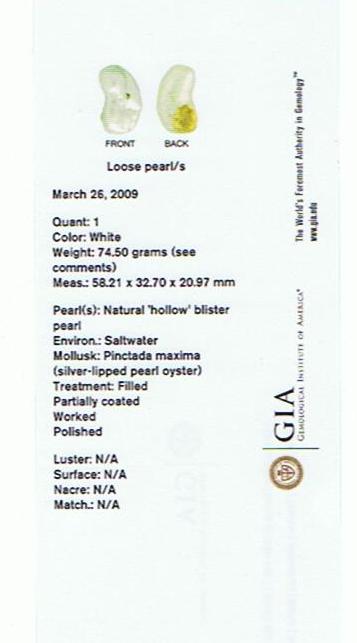 GIA Certificate for Star of Hope Pearl
Learn more about natural pearls after 372 carat pearl**.