A natural pearl and diamond necklace for sale at Bonhams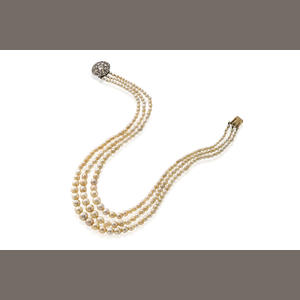 3 Strands Natural Pearl Necklace
A natural pearl and diamond necklace


comprising three rows of seventy-nine, seventy-nine and eighty-one graduated round to semi-baroque natural pearls, measuring approximately 8.35 x 8.26 to 2.66mm., completed by an old European and rose-cut diamond cluster clasp; clasp mounted in silver topped gold; length: 14in.
Estimate:
US$ 50,000 - 70,000
£33,000 - 46,000
€41,000 - 57,000
Accompanied by GIA report #2145525657, dated March 27, 2012, stating: predominantly natural pearls (two bead cultured pearls), predominantly saltwater, no indications of treatment.
Source for A natural pearl and diamond necklace sale at Bonhams
Buy natural pearl necklaces here.