A pearl in my fried oyster?
by Marta K.
(Topsail Island, NC)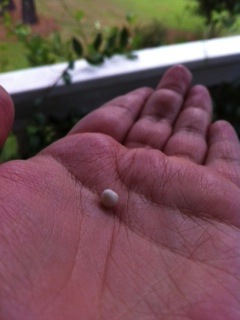 Oyster pearl found in NC
I bit into a fried oyster at a restaurant at the beach in NC and spit out a white ball. Huh? I wonder if it is a pearl? It looks like a rock, as it's not shiny at all. I lost my appetite and couldn't eat anymore but I did rip apart the rest to see if there were any more ;) I think I'll mount it on a ring anyway--it's a memory to keep :) I asked and they said the oysters are local, saltwater.