America Azerbaijan
America Azerbaijan -- my impressions of my visit to Baku, Azerbaijan.
What happens to the life of a country after seventy years of communism? Azerbaijan, formerly part of the Soviet Union, today is once again its own country.
Slowly emerging from Soviet exploitation (as Azeri citizens describe it), Baku, the oil rich capital, situated on the Caspian Sea, is showing signs of new life and hope.
Buildings are being repaired and sandblasted. American oil companies are investing. The Latin alphabet is re placing Russian script. English is rapidly becoming the second language, instead of Russian. The word "hope" crops up often when discussing Azerbaijan's future.
Even my American presence brought hope. At a birthday party for a TV employee at a Baku studio, they laughed, toasted often and confided, "Your presence has put us in a good mood."
My hostess' daughter, Aynur, 24 at the time of my visit, was a TV reporter for ANS, the CNN of Azerbaijan, thus the invitation to the party.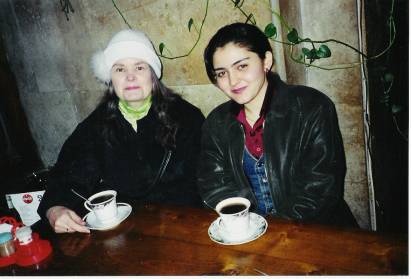 Me & Aynur
I gave the ten employees pocket atlases of the USA. They thumbed through them, especially interested in California, film making being their area of interest. I insisted they not only visit Hollywood but Iowa as well.
"We used to be prisoners in our own country and now we still can't travel because we have no money. Plus, we need a letter of invitation," they explained.
One employee, who makes documentaries, had spent a month in California last year at a film festival. He was grateful for family and friends who helped him financially to make the trip. "I couldn't have gone without their help."
The head of the TV station had spent time in Grinnell, Iowa on an exchange program.
For others, going to America is their dream. America Azerbaijan wish list.
My hostess, Filia, is a public school English teacher. My husband, Mark and I met her son, Elnur, in Istanbul two years previous to my visit to Baku. I'm embarrassed to admit it, but I'd never even heard of Azerbaijan, although the name Baku was familiar....I couldn't have told you which country's capital is was.
Even Microsoft Works, as I type, doesn't have it in its dictionary. An America Azerbaijan oversight.
Elnur suggested I visit his mother. She met me at the airport wearing a lovely full length fur coat. She grabbed my arm and chatted in monotone English as we walked to a car. Her husband, Najur, a former career Soviet Union soldier, saw to it that I was greeted properly at the airport in this foreign land.
Upon my arrival at the Baku airport, a police officer in a funny large brimmed hat approached me as I stood in the passport line. He helped me obtain the $40 visa, go through passport control, baggage claim, and security. He ushered me ahead of the lines and escorted me to my hosts. I felt like a dignitary. An America Azerbaijan gesture of goodwill.
I'd hoped to visit the public schools, but Filia chose to stay home and cook traditional meals for me and take me on strolls. She confided in me some of the hardships associated with her job. "The school is very cold. I never take off my coat and neither do the students. Some students have difficult behavior problems and the drains my health. For working six days each week, I earn the equivalent of $30 USD a month. We are hoping for this to increase. I want to work." An America Azerbaijan contrast.
Her husband is on a pension for his military service. Included in this are free utilities: natural gas, electricity, water and even free bus fare. Can you blame him for still embracing communism?
In their apartment a warm fire burns twenty-four hours a day in the ornate cast iron fireplace.
He personally favors the former union of Soviet states. He stands alone among his family in this thought. That is an America Azerbaijan differing opinion.
My five days in Baku consisted of 1-2 daily strolls past the Ministry of Foreign Affairs, other government buildings, the metro, libraries, museums, the opera house, old Baku, street bazaars, and the Caspian Sea.
Soviet super cities had vast public boulevards with numerous fountains and monuments of cultural and political heroes.
Azerbaijan, in particular, has its share of literary giants.
During these strolls, mother, daughter or niece would grab my arm and teach me the art of "strolling". I needed constant gentle reminders to "yavash," or "walk slowly". Ways of walking are an America Azerbaijan difference.
Time at the apartment was filled with watching TV programs of national musicians, Mexican soap-operas. Turkish and American programs were dubbed in either Russian or Azeri.
Because of my sniffles, they kept me supplied with perfumed handkerchiefs. America Azerbaijan kindness.
One night found us dashing off in a taxi to the opera house. Aynur received free tickets as a TV reporter. "People love reporters," she said.
There were two ballets that evening: "Don Quixote" and "Leili and Majnun". My first thought is that "Leili and Majnun" was a copy of "Romeo and Juliet," but then realized the opposite is true, since the Azeri ballet was written in the 8th century...long before Shakespeare's time.
The assistant director, who Aynur and I had met when we picked up our free tickets, found our party of four in the gorgeous three story opera house and requested we come to his office after the performances. There he presented me with a CD of original Azeri music. An America Azerbaijan gesture of kindness.
Afterward we strolled home, shopping at the street bazaars, which were open late. America Azerbaijan pastime....shopping.
Being a major city, people dressed formally in public, with full length fur coats which are treasured heirloom investments passed on from mothers to daughters. If not in fur (fur hats for the men) then in long black wool coats for both men and women.
In contrast, very poor women, begging or selling seeds, wore head scarves and whatever they could cover themselves with...various prints and layers of sweaters.
Azerbaijan has nearly one million internal refugees, displaced from their own homeland in the east by neighboring Armenians. Many migrate to Baku in search of relief. That's a ratio of refugees to the greater population of one to eight persons, making it one of the highest refugee ratios in the world.
Today's young adults grew up in an atheistic society. Some personally claim this Turkic country's Islamic roots. Others claim no religion and express strong opinions against Islamic extremes such as women wearing head coverings. A male university student told me, "I HATE those scarves. I HATE them! Why should a woman hide her beauty?" An America Azerbaijan understanding.
Azerbaijan is spiritually refreshing, without excessive Islamic presence. Christianity is growing rapidly, with one church in Baku over 1,000 strong, complete with orchestra due to the rich cultural training available to the citizens. Islam has presence also with, for example, a poster of Mecca in a bakery, the very fainest call to prayer in the distance, a grandfather's prayer beads proudly shown off.
A favorite holiday for young people is a celebration of spring where small bonfires are lit and youngsters jump over them. This is supposed to remove one's sins.
Azeri's hands and hearts are extending to the west, hoping they will be grasped in return. In addition to other gifts, I gave my host family books of the gospel of John and Christian literature written in Turkish, a language closely related to Azeri and easily understood by them. I also left New Testaments in English, a book they'd heard of, but never seen. With our limited level of communication I tried to convey its value and the importance of faith in Jesus Christ for eternal life.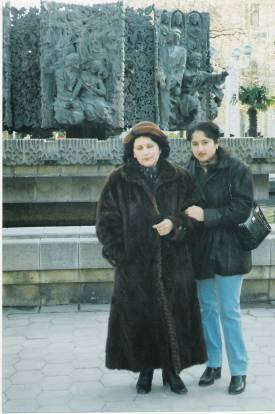 My hostess and Niece
My hostess' niece, 18 at the time, was particularly interested in my faith. I spent time listening to her read English and asking her questions to help her with auditory understanding. On my last day, as I sat on my bed, packing, Aynure came to me, knelt at my feet, kissed my hands and said, "I love you!". An America Azerbaijan connection.
Feeling a little awkward with this display of affection, I instinctively closed my eyes, held her hands and prayed out loud for her.
When I opened my eyes, she had a puzzled look on her face and asked, "What were you doing? She'd never seen or heard anyone pray before. With primary words and gestures I tried to explain.
I flew back to Istanbul from Baku on flight #007, feeling like a member of the cast in the new James Bond movie, "The World is Not Enough", again linking America Azerbaijan.
For sure the world of the Azeri's is not enough. They are hoping, hoping for financial freedom and prosperity, hoping for friendship with America, hoping to find answers to life's deepest questions.
Return to Kari's "About Me" page.