Andrew Anderson
Andrew Anderson, our oldest son, is the guy you'd want to have along if you ever crashed (and survived) on a deserted island, or if your electrical circuits blew up, or if your plumbing backed up, or if you wanted to have a sculpture created.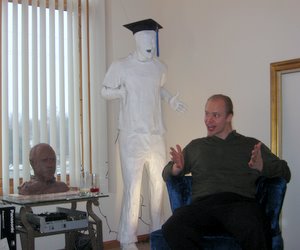 Andrew and Sculptures
Andrew is that kind of guy....creative, skilled and capable. He excels in everything. Take for example his first day on a snowboard about a month ago. After a few practice turns on the bunny hill, he headed for the real slopes and easily conquered the black diamond.
Need a replica of something or someone? Call Andrew. Need something made out of poured molten metal? Call Andrew. Need exciting science experiments to entice youngsters into learning? Call Andrew. Need a documentary made? Call Andrew.
At age 11, he solved the basement wiring problem in our Victorian home....in about 5 minutes. Also at that age he made an aluminum furnace which won him a science fair prize and he also baffled us with his self-taught black smithing skills. The design level of his clay creations, even at that age, stunned the best of us.
As a teenager he plumbed, wired and helped build our large new home.
When he took sculpting at the University of Iowa, his sister, Anna, pitied his fellow sculpture students....Andrew's just above the contest. I think he should open his own showroom.
Creating is Andrew's forte.....it flows from him. Now if he only had more room for his creative supplies, he'd (we'd) be happy....just where is that warehouse?
With his business degree Andrew Anderson has given me excellent advice for my pearl company and if he meets someone from Turkey he can surprise them with a Turkish song or conversational skills. His five years in Istanbul arranging music tours around that country equipped him for...well....just about anything.
Read Andrew's page about living in Istanbul, Turkey.