Antique Certified Natural Saltwater Pearl Necklace, Platinum/Diamond Clasp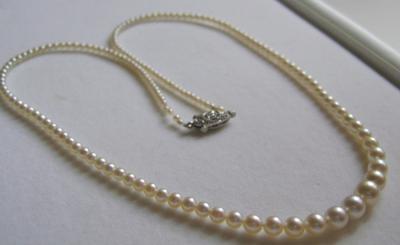 Antique Natural Saltwater Pearl Necklace
Type of pearl: Natural saltwater


Carat Weight: 5.8 grams/29 carats (complete necklace)
Shape: Round
Size of pearls: 1.85mm to 5.61mm
Color: Cream (Light)
Location of Origin: Exact origin unknown, but would be either the Persian Gulf or Ceylon Straits areas
Clasp Metal Type: Platinum with Diamonds
All the pearls in this necklace are of exquisite quality and roundness, all the way back to the clasp!
Certificate: EGL, New York City, no. US58385801P
This antique necklace dates to around 1910-1920. The pearls here are simply gorgeous--rarely have I seen a better job of matching by color, luster, and shape! Unlike some necklaces, they are all very fine quality, not just the pearls toward the center. The platinum and diamond clasp completes the 16" length necklace beautifully.
The original certificate will accompany the necklace, as well as an independent appraisal for $12,000 retail value. Natural pearls have jumped in value again since the 2011 date of the appraisal, and are one of the few real investments to be made in today's jewelry market. Of course, you may also consider them a precious adornment for their beauty and rarity alone!
Price: $4,780
SOLD!