Antique Edwardian Double Strand Natural Pearl Necklace, 9K Gold Diamond Clasp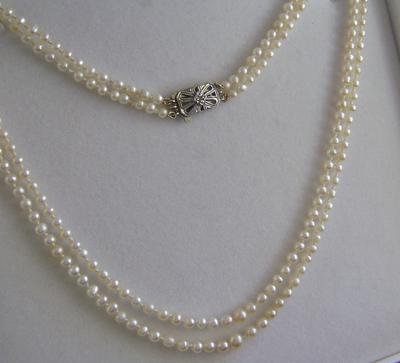 Antique Edwardian Double Strand Natural Pearl Necklace, 9K Gold Diamond Clasp
Type of pearl: Natural saltwater


Weight: 12.0 grams (total weight of necklace)
Shape: Near-Round to Round
Size: 4.80mm to 3.04mm
Color: White/Pinkish
Location of Origin: Persian Gulf
Clasp Metal: 9K white gold
Certificate: EGL (New York), US312674302P
Price: No longer available
Story about this pearl: This beautiful necklace of lustrous white pearls dates from circa 1910. The pearls were taken from a very long necklace, as was the fashion at the time, and made into two strands. The 9K white gold clasp with diamond accent is hallmarked for Birmingham, 1986, when this conversion was made. The pearls were then restrung on white silk earlier this year.
The necklace measures 16 inches, perfect for a small to average neck, and weighs a substantial 12 grams. The certificate shown, as well as appraisal for $15,025, are included.
Antique natural pearls are increasingly rare, and double strand necklaces even more so. No modern cultured pearl -- the product of a farming technique -- can compare to natural pearls for beauty, inner glow, and age-old romance!