Antique Edwardian Natural Pearl Necklace, Platinum Diamond Clasp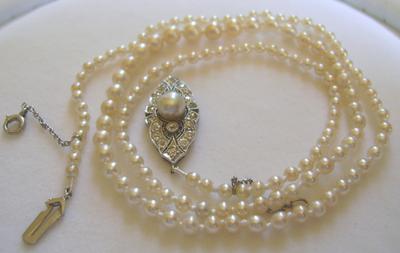 Antique Edwardian Natural Pearl Necklace, Platinum Diamond Clasp
Type of pearl: Natural saltwater


Weight: 10.2 grams (total weight of necklace)
Shape: Round to off-round
Size: 4.97mm - 2.60mm
Color: White to off-white, pinkish
Location of Origin: Persian Gulf
Clasp Metal: Platinum
Length: 20" inches
Certificate: EGL (New York), US313057801P
Price: No longer available
Story about this pearl: This superb antique pearl necklace dates from 1910 to 1915, the height of the elegant Edwardian or 'Belle Epoque' period.
There are 135 natural saltwater pearls, graduated from 4.97mm to 2.60mm. These pearls are white to off-white with pinkish overtone. They are beautifully matched, glowing orbs!
The clasp itself is a work of art, in the fine, lacy style of the time. It is all platinum (as is the safety chain), and of a large size at 1" long. It is set with a gorgeous natural pearl of 5.73mm, as well as 20 bright white Old European cut diamonds. Total diamond weight is approximately 0.60ct to 0.75ct.
At 20" long and with a substantial weight of 10.2 grams, this necklace will sit beautifully on any size neck. It has just been restrung on white silk, and is ready to wear or give as a gift. The certificate shown, as well as the appraisal for $11,325, are included.