Antique Graduated Natural Mississippi Freshwater Pearl Necklace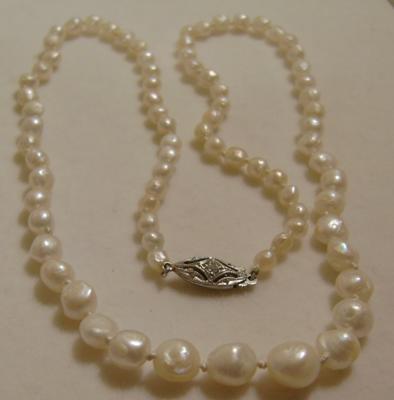 Antique Graduated Natural Mississippi Freshwater Pearl Necklace
Type of pearl: Natural Freshwater


Carat Weight: Total weight 10.9 grams (54.5 carats)
Shape: Off-round to Baroque
Size in mm: From 3mm x 4mm, to 7mm x 7.5mm (approx.)
Color: White
Location of Origin: USA, Mississippi River
Clasp Metal Type: Platinum
Unique Features: A rare graduated American pearl necklace
Certificate: This necklace has been evaluated by Lila Taylor, M.Sc., an expert in American natural freshwater pearls
This 16" length necklace, just restrung on silk, dates to 1910-1920 There are 79 natural Mississippi pearls, beautifully matched for color and shape. To assemble the pearls for this necklace would have been no mean feat!
The pearls have fine luster, with many showing pink, gold and blue-green orient as you turn them in the light -- something not captured in the photos. (The photos show the necklace under indoor lighting, and natural light.) The original platinum fish hook style clasp features millgrain detail, and a diamond of approximately 2 points set on each side.
Essentially, this necklace is an American version of the classic graduated saltwater natural pearl necklace. The expert who evaluated it had never seen the like, and doubts she will again! It would be a worthy addition to a collection of antique American pearl jewelry.
Price: $1,800 SOLD!