Antique Natural 4+ ct Freshwater Pearl Platinum Diamond Ring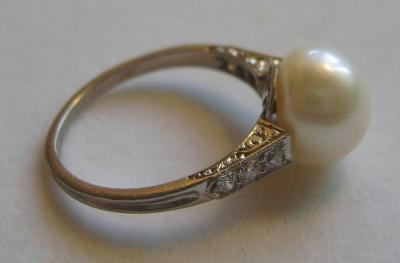 4.97 carats Freshwater Pearl Platinum Diamond Ring
Type of pearl: Natural Freshwater


Carat Weight: 4.97ct (pearl only; 3.2 grams with mounting)
Shape: Button
Size: 9.96 x 9.85 x 7.19mm
Color: White
Location of Origin: U.S.A., Mississippi River
Clasp Metal Type: Platinum with diamonds
Unique Features: A rare, certified American pearl in a custom-made antique setting!
Certificate: EGL, New York City, no. US63611106P
This beautiful, smooth button pearl is of unusually large size and very pleasing shape! It is shown off perfectly by its original antique platinum (tested, not marked) and diamond mounting.
The certified natural freshwater pearl has a slight pinkish overtone, which does not appear in the photos. The ring dates to 1910-1920, and features fine millgraining and engraving work. Even the accent diamonds are of super quality -- at D-E color, the highest on the grading scale!
Both the pearl and the ring are in excellent condition. The ring size is 6.25, and is resizeable by an experienced jeweler. It has not previously been sized. The original certificate will be provided with the ring.
Price: $2,870
SOLD!