Antique Natural Pearl Necklace, 18K Diamond Flower Clasp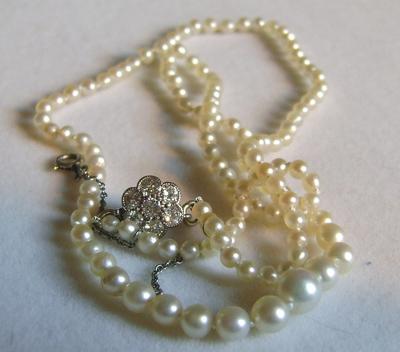 Antique Natural Pearl Necklace, 18K Diamond Flower Clasp
Type of pearl: Natural saltwater


*Carat Weight: 5.4 grams, total weight
*Shape: Round to off-round
*Size in mm: 5.46mm to 2.18mm
*Color: White
Location of Origin: Unknown, but likely Ceylon Straits
Clasp Metal Type: 18K white gold
Certificate: EGL US65645701P
This exquisite necklace of 128 luminous, white natural pearls measures 16-1/4" in length. It is completed by an 18K white gold clasp with 7 colorless (F-G) diamonds weighing a total of 0.42ct, and a white gold safety chain.
Pearls of this whiteness usually came from the Ceylon Straits rather than the Persian Gulf. (Note that any yellowish tones were added by the lighting source for the photographs, which also makes the diamonds look dark.)
The necklace has just been restrung on silk, and is a timeless, elegant example of natural pearls, one of the world's rarest gems! It comes with a retail appraisal value of $4,750.
*Price: $2,750
SOLD!