Antique Natural Saltwater Pearl Earrings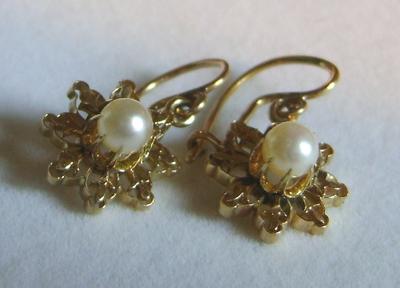 Antique Natural Saltwater Pearl Earrings
Type of pearl: Natural saltwater


*Carat Weight: 4.6 grams, total weight
*Shape: Round
*Size: 4.72mm and 4.76mm
*Color: White
Location of Origin: Persian Gulf (likely)
Metal Type: 14k gold
Certificate: EGL US63611107P
These antique earrings feature two exquisitely matched natural pearls! Unlike many pearls used in earrings, there is no 'hidden' side to these round, lustrous white pearls -- no bad blemishes, decay, or otherwise 'funky' back.
The ear wires used here are 14k gold, but the gold of the sun-shaped settings (about 1/2" across) shows variable results of 16k-18k when tested. It is extremely likely that the pearls and their settings were previously part of an elaborate nineteenth-century necklace, perhaps French in origin. Total length of earrings when worn is about 1".
The earrings have been professionally cleaned and re-polished. Unlike more elaborate natural pearl drop earrings, these are perfect for everyday wear!
*Price: $750
SOLD!