Antique Natural Saltwater Pearl Necklace, Large Platinum Diamond Clasp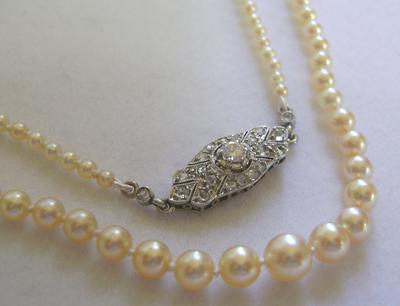 Antique Natural Saltwater Pearl Necklace, Large Platinum Diamond Clasp
Type of pearl: Natural Saltwater


Weight: 8.6 grams (total weight of necklace)
Shape: Round
Size: 5.54mm to 2.2mm
Color: White to cream/pinkish
Location of Origin: Persian Gulf (presumed)
Clasp Metal Type: Platinum
Certificate: EGL, US312457402P
This exquisite necklace comprises 127 round, glowing orbs with the beauty only found in natural pearls! The pearls are white to cream with pinkish orient, and perfectly matched. They graduate from 5.54mm at the center, to 2.22mm at the clasp.
(Please note, the pearls are lighter and more pinkish than they appear in the photographs, which were taken in natural light with no color adjustment. Pinkish orient is highly desirable in natural pearls, but hard to capture in a photograph.)
The clasp itself is a work of art! Just over 1 inch long, it is platinum set with a central diamond of 15-20 points, plus 18 rose-cut diamonds in the main part of the clasp, and 2 bezel-set diamonds at the clasp connectors. The push-in clasp is cleverly hidden with a diamond that forms part of the design. All of the diamonds are bright white and sparkling, more so than can be seen in the photos.
The pearls have just been restrung on white silk. With a length of 19 inches, this necklace will suit any lady. The certificate shown, as well as the appraisal for $12,500, are included.
Antique pearl necklaces of this quality and condition are scarce. This would be a beautiful addition to a collection, or make a spectacular gift!
Price: No longer available