Antique Natural Saltwater Pearl Necklace, Platinum Diamond Sapphire Clasp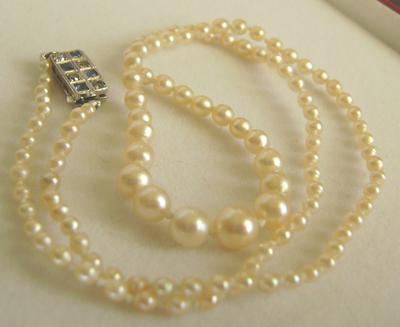 Antique Natural Saltwater Pearl Necklace, Platinum Diamond Sapphire Clasp
Type of pearl: Natural saltwater


Carat Weight: 8.4 grams, total weight of necklace
Shape: Round to off-round
Size in mm: 6.19mm to 2.76mm
Color: Cream, with pinkish orient
Necklace length: 19"
Location of Origin: Persian Gulf
Clasp Metal Type: Platinum
Certificate: EGL, US69927101P
This exquisite natural saltwater pearl necklace dates to circa 1915. The 111 lustrous, light cream pearls glow like so many moons, and exhibit very desirable pinkish orient. The pearls are finely matched, and joined with a substantial (approx. 1/2" length) platinum clasp. The clasp is set with four Old European cut diamonds, and four natural sapphires of a light to medium cornflower blue. (Note that the diamonds are colorless (rated as G-H), but appear darker in the photos.)
The necklace is 19" long and was recently restrung on silk. The certificate shown is included, as well as an independent appraisal for $12,200. This beautiful necklace is ready to wear, or present as a most memorable gift!
Price: $7,520
SOLD!