Antique Natural Saltwater White Pearl Necklace, 18K Diamond Clasp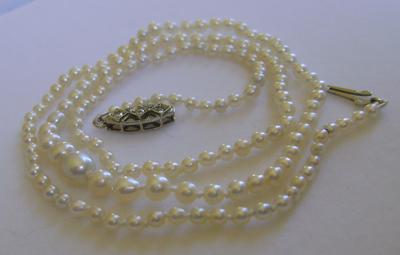 Antique Natural Saltwater White Pearl Necklace, 18K Diamond Clasp
Type of pearl: Natural saltwater


Weight: 6.3 grams (total weight of necklace)


Shape: Round to near-round


Size: 5.38mm to 2.51mm


Color: White to near-white


Location of Origin: Ceylon Straits (likely)


Clasp Metal: 18K white gold


Length: 19" inches


Certificate: EGL (New York), US312674304P


Price: No longer available
-->
This beautiful antique pearl necklace dates from circa 1930. The necklace comprises 143 white to near-white pearls of very fine luster.
The size, whiteness, and multi-pastel sheen of these pearls make it likely that they originated in the area of the Ceylon Straits rather than the Persian Gulf. The pearl beds in this area have basically been extinct since an oil tanker accident in the 1950s, and never reestablished. All natural pearls are now rare, but Ceylon pearls even more so.
The necklace is 19 inches long -- an easily wearable length. Its 18K white gold clasp is set with three old single-cut diamonds. Just restrung on white silk, this gorgeous piece is ready to wear or would make an exceptional gift!
The certificate shown, and appraisal for $9,845, are both included.
Return to Listed - Antique Natural Pearls & Jewelry - SOLD.