Antique Tiffany Natural Saltwater Pearl Diamond Clasp Necklace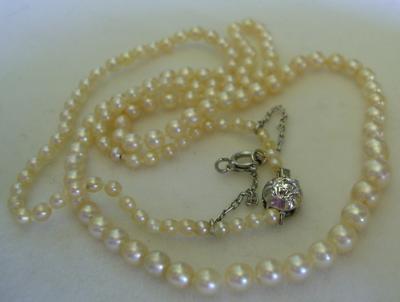 Antique Tiffany Natural Saltwater Pearl Necklace
Type of pearl: Natural Saltwater


Carat Weight: 6.4 grams (total weight of necklace)
Shape: Off-round
Size in mm: 4.62mm to 1.98mm
Color: Cream
Location of Origin: Persian Gulf
Clasp Metal Type: Platinum
Unique Features: Comes with original Tiffany & Co. box!
Certificate: EGL, New York, no. US63903001P
This gorgeous natural pearl necklace dates from circa 1900 and is a rare find! It was sold by Tiffany & Co., with the name clearly marked on the body of the clasp and also inside the original dark green leather box.
The cream pearls are beautifully matched, with fine luster and orient. They are off-round, but only slightly so -- what you might call 'round to the eye'.
The platinum clasp has a white gold tongue, which is an old replacement, and white gold safety chain. It is set with a 0.25ct Old European cut diamond, of the superb quality you would expect in a Tiffany piece.
Overall length of the necklace is 18" and it has just been restrung. A fabulous collector's item!
Price: $4,780
SOLD!