Antique Victorian Natural Saltwater Pearl Necklace, 18K Gold Sapphire Rose Diamond Clasp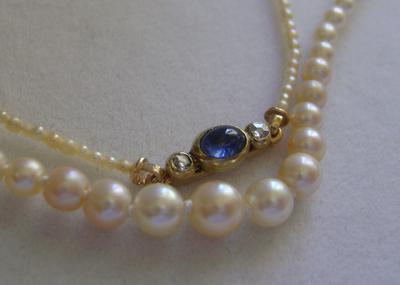 Antique Victorian Natural Saltwater Pearl Necklace, 18K Gold Sapphire Rose Diamond Clasp
Type of pearl: Natural saltwater


Weight: 4.4 grams (total weight of necklace)
Shape: Round to near-round
Size: 4.91mm to 1.45mm
Color: White/Pinkish
Location of Origin: Persian Gulf
Clasp Metal: 18K yellow gold
Length: 18" inches
Certificate: EGL (New York), US312674305P
Price: No longer available.
Story about this pearl: This classic, dainty natural saltwater pearl necklace dates from 1850 to 1900. There are 173 creamy white pearls of pinkish overtone, graduating from 1.45mm at the clasp to 4.91mm at the center. They are beautifully matched, and have a soft, moonlike glow.
The 18K yellow gold push-in clasp features a fine blue cabochon natural sapphire, measuring approximately 4mm x 3mm. The clasp is completed by two rose-cut diamonds. New, 14K knot holders were added to the clasp when the pearls were recently restrung.
The necklace is 18 inches long ('princess' length). Both the certificate shown, and appraisal for $8,550, are included.