2 Free Pearl Baby Bracelets & Free Pearl Earrings with Purchase of Baby Bibs
Delightful baby bibs for the "Little Girl with Pearls"... plus 2 free pearl baby bracelets plus free baby pearl earrings with purchase of bibs.
Buy 1 baby bib for $15 and get 2 free cultured pearl baby bracelets and free baby pearl earrings.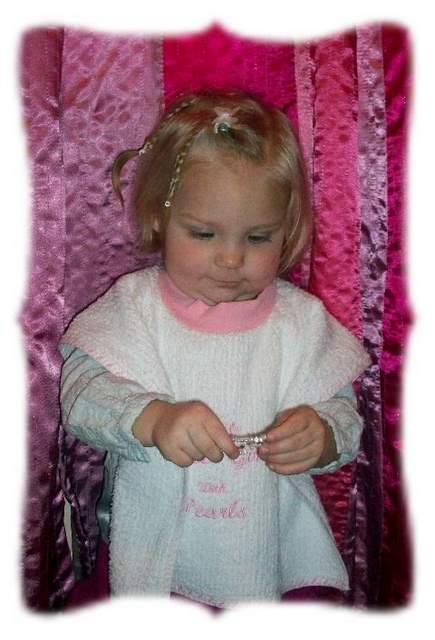 Little Girl With Pearls
Looking for a nice baby or little girl gift? This is it! Buy 1 baby bib and get 2 FREE pearl baby bracelets (one pink, one white) plus FREE baby pearl pierced earrings.
What could be a better or more appropriate gift for the little girls in your life?
It's a great deal and my current promotion. I love to give things away. Would you believe I have given over 6,000 pearl baby bracelets away? I've even written a children's story about it.
My sister, Diane, makes these bibs just for you. She's an expert seamstress complete with a sewing room equipped with fancy sewing machines. Her sewing room is a delightful place to be filled with colorful sewing treasures.
These little cuties are two of her granddaughters.
Sorry, we are out of lavender bibs at the moment. Only pink is available.
Buy this bib for $15 and get 2 FREE pearl baby bracelets and pierced baby pearl earrings. Get 2 free pearl baby bracelets and a pair of earrings for each bib you buy.
Diane makes these bibs with my website address embroidered on the bottom.
This bib stays put with the expandable neckline and easily comes on and off. Your little girl with pearls will love this bib.
Price: $15.00 for 1 Bib
Includes
2 FREE pearl baby bracelets (1 white, 1 pink),
FREE pearl pierced baby earrings (white)
and even FREE shipping!
Go to baby bracelet page after baby bibs.
Read about the day I received orders for 6,000 free baby bracelets!